Home
>>
News
>>
Nba 2K22 Next Gen Attributes Explained Does Pass Accuracy Strength Stamina Matter In 2K22 Next Gen

NBA 2K22 Next Gen Attributes Explained: Does Pass Accuracy, Strength & Stamina Matter in 2K22 Next Gen
Date: 12/13/2021 3:47:19 PM
In NBA 2K22, we have a number of attributes categorized in finishing, shooting, playmaking, defense, and physicals, what's the best or most important attribute when you build your MyPLAYER? Here we'll find the NBA 2K22 next-gen attributes that matter a lot and a complete attributes tier list.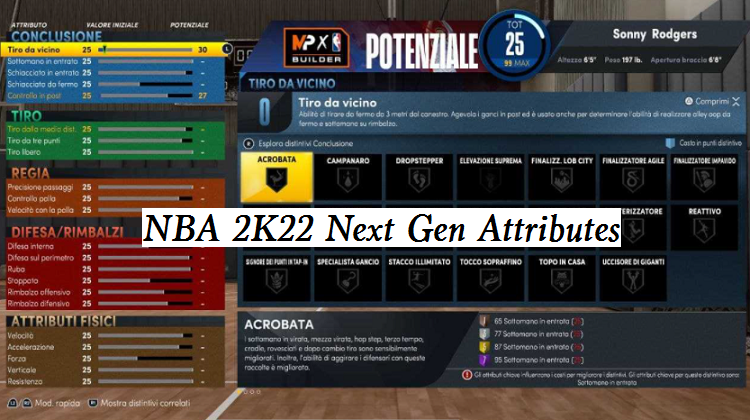 Related Read: How to Get 99 Overall 2K22 Next Gen
NBA 2K22 Next Gen Attributes Explained
No attribute rating in this game is completely useless, but the focus is different depending on the type of build you create and what badges you are going to obtain.
Does pass accuracy matter in 2K22 next gen?
You might not think pass accuracy measures up to the other attribute ratings, but it can really make the world go around, for example, when you're running double ISO and you're just kicking that thing back and forth, you can really dominate people by just passing the ball back and forth on driving kicks and for having gold Bullet Passer, it really changes the game, having it at least silver. If you don't have pass accuracy you are a liability out there, you are going to be floating those passes really ugly, this does go tied in with Bullet Passer. Having pass accuracy also lets you get things like Dimer, Needle Threader, it unlocks a lot of playmaking badges out there and it really is nice to have. This is a necessity as well as a luxury where if you have it really high, you can really thread the needle on a lot of things, get it there in a timely fashion, that's going to allow your teammate to actually shoot the ball, if you don't have it, you're a complete liability out there.
Does strength matter in 2K22 next gen?
There is a ton of builds that would correlate to strength, like that preventing people from backing you down or backing other people down, all this really does help with is the backdown situations. In addition, there are lots of badges related to that, you have Backdown Punisher, which if someone does not have Brick Wall, you can be backing them down easy regardless of strength, and then if you have Brick Wall you're gonna be preventing people from backing you down. Back downs are really what this attribute rating is tied to, it helps you play defense, does strength tie into Driving Dunk and being able to get more dunks? No. Just positioning and playing the proper defensive stick is more important, strength can't bail you out enough in that term. In a word, strength is not that great, all you need to have that is into your defense rather than strength, upgrading your into your defense by default, upgrades your strength by a little bit, it's not recommended to have this on like literally 25, but to have it around like 40 or 50, that's what most builds get.
Does stamina matter in 2K22 next gen?
For stamina, this is a very cheap attribute rating to be had you can easily upgrade this, you can max out stamina or at least have it at 95. It's such a good glue in terms of letting you play good defense, the more stamina you have on defense, the better animations you're gonna get. And it's gonna help ball handlers and stuff like that out there. If your stamina is too low, your shooting will be affected. Buying VC is the fastest way to increase your stamina. Both 2K MT and VC are essential currencies in the game.
Does close shot matter in 2K22 next gen?
The close shot is a Finishing attribute that helps determine a player's ability to shoot when standing still out to 10 feet from the basket. So it can be related to standing layups or hook shots, this does also tie into certain badges, for instance, Grace Under Pressure, Mouse in the House Badge, Hook Specialist, etc. When talking about the power of the attribute rating itself, it is going to be dependent on what setting you're in, it's going to be really good for 3v3. For the 2v2 pro-am, if you are a taller big that has really good close shot, you have unstoppable hooks, you have Grace Under Pressure and Mouse in the House Badge on Hall of Fame, you cannot be stopped by undersized bigs, increase your Close Shot will significantly boost your shots near the rim. If you are creating big man builds, it's recommended to go with at least a 75 Close Shot rating.
Does vertical matter in 2K22 next gen?
Vertical is a Physical attribute used as a gate for dunk animations, and in combination with attribute counterparts, allows a player to jump higher on rebounds and blocks. What it does for you in terms of rebounding, shot-blocking, shot contesting as well, what this does for the jump contest is it lethal when you have a good vertical for that, and on top of that, you need vertical for certain dunk animations and for contact dunk packages.
NBA 2K22 Next Gen Attribute Tier List
Here is an NBA 2K22 next-gen attribute tier list by LakerFan.
S tier: Three Point, Speed With Ball, Speed, Stamina, (Free Throw)
A tier: Driving Dunk, Pass Accuracy, Ball Handle, Block, Perimeter Defense, Acceleration
B tier: Close Shot, Offensive Rebound, Defensive Rebound, Interior Defense, Steal, Vertical
C tier: Standing Dunk, Post Control
D tier: Driving Layup, Strength
NBA 2K23 News Guides

NBA 2K22 News Guides

NBA 2K21 News Guides
CONTACT US
TEL (USA) : +1-315-889-1198
TEL (UK) : +44-020-32905838
MSN: [email protected]
QQ: 1498133786