NBA 2K22 Season 5 Guide - New Level 40 Reward, Cards, Game Modes & Locker Codes
Date: 2/23/2022 4:54:00 PM
On the same day as NBA 2K22 season 4 comes to a conclusion, season 5 will begin. Season 5 NBA 2k22 MyTEAM is going to be dynamic. We're going to be getting a ton of new dark matters, free galaxy opals, locker codes, rewards and basically, everything else when 2K adds a new season. In this NBA 2K22 season 5 guide, we are going over the level 40 rewards, cards, MyTEAM rewards, coaches, and locker codes you are about to see.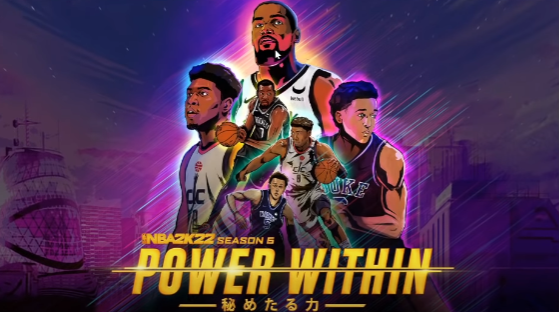 NBA 2K22 Season 5 Power Within Guide - New Level 40 Reward, Cards, Game Modes & Locker Codes
NBA 2K22 Season 5: Power Within will begin on February 25, 2022. 2K already ended up confirming some stuff for NBA 2K22 season 5. We are going to be getting a dark matter for level 40 and the season is going to be a dynamic season. They emphasize a lot of free galaxy opals. What's more, they also confirmed that we are going to be getting new domination and they added certain players that we have ever seen before in a unique way. Furthermore, NBA 2K22 MyTEAM season 5 will also feature the return of the dynamic rating cards, new coaches, an anime-themed mural to complete, and more! 2K did also say that Gregg Popovich is also going to be involved with season 5 in NBA 2K22.
NBA 2K22 Season 5 Level 40 Reward
Paolo Banchero is the level 1 reward. A current collegiate star enters the fray as a 95-point Free Agent in MyTEAM. The level 40 reward for NBA 2K22 season 5 is going to be a dark matter, which is Ray Allen. He is 6'5 and can play shooting guard and small forward. As we know he is athletic, he is going to be handle, drive, throw it down out there and do everything. He got drafted by the Bucks out, completing the level 40 challenges to earn one of the greatest shooters: dark matter Ray Allen!
NBA 2K22 Season 5 Packs & Cards
Those Dynamic Rating cards have returned! Over 400 new player cards are included in the final basic set of NBA 2K22's MyTEAM, which includes all 30 current NBA clubs. You should anticipate the ratings of these cards to change based on the success of each player in the real world. We got another dark matter arriving in MyTEAM season 5. A new MyTEAM Event Card mural will be created throughout the course of three distinct events this season 5. For completing those collections, you will get 3 galaxy opals. Most importantly, with the completion of the intimidating figure's mural, players may receive a dark matter.
NBA 2K22 Season 5 Rewards
We're going to be seeing some new players and rewards get added in NBA2K22 season 5.
Domination
We are going to be getting new Domination. Players from each team may be obtained via a new Dynamic Rating Domination tier, which can be unlocked by purchasing and opening League & Premium packs in the Market. Grab all 99 Stars at this new tier to complete your collection of Galaxy Opal Paul Millsap. When it comes to the Domination reward, 97 rated Paul Millsap is going to be the reward, you can play him either a power forward or small forward.
MyTEAM 75 Collection
You can start to grind 6 NBA 75 MyTEAM collections from Tuesday, March 1, and lasts 3 weeks. Featuring 2000s/2010s, '80s/'90s and '60s/'70s. Complete those collections, you will be rewarded a dark matter!

Unlimited
2k did also say that new players that we haven't seen before will be added for the Unlimited. Galaxy opal Cincinnatus Powell will the reward for Unlimited. This card will end up being one of the greatest cards in NBA 2K22, if 2k is going to add him for Unlimited, he might be glitchy and cheesy!
Limited
Limited rewards have been always pretty good when it comes to the names of players we have seen. In 2K22 MyTEAM season 5, we got DeMarcus Cousins in Limited, and we got some more later.
Clutch Time
When it comes to the Clutch Time wheel, we get Shawn Kemp! They have to make Shawn Kemp cheesy since the last 2 wheels we had were some of the best cards in NBA 2K. So Shawn Kemp could be realistically one of the best cards too. Though it really depends what position they are going to make him.
Draft Mode
When it comes to Draft, galaxy opal Richard Hamilton will be the reward. Finally, we get a nice reward for Draft. Richard Hamilton is a defensive wing, he can dunk, he can play defense and he can shoot the three ball.
Token Market (to be confirmed)
In the token market, we expect to see new galaxy opals, guaranteed player packs to use our tokens. We're going to be getting some new rewards, obviously galaxy opals, pink diamonds, diamonds, maybe some amethyst, and rubies. Since this season is going to be a dynamic season, the token markets could be dynamic and they could change it every so often, make it every other week, maybe make it every Friday, just make it where we actually end up getting some good stuff in the token market, not just the reward market.
Ascension (to be confirmed)
When it comes to the ascension, they always end up picking a historic player. Sometimes they make them really good, sometimes they make them really bad, and sometimes it's just like in between. The player we may get from the Ascension is Larry Kennen or anybody.
TT & TTO (to be confirmed)
When it comes to Triple Threat Online and Tripe Threat Offline, 2k always ends up taking either a random white guy and they make him the best card with good animation and good badges in the game. We'll just have to wait and see what 2k does have planned for the TT and TTO rewards.
NBA 2K22 Season 5 New Coaches
Your favorite players will be unlocked through new historic Coach Cards included in MyTEAM packs. Don Nelson, Rick Adelman, Jerry Sloan, Lenny Wilkins, Larry Brown, and a host of other legends should be considered. Coach cards for Doc Rivers, Mike D'Antoni, Erik Spoelstra and Ty Lue will return, as will historic versions of their namesakes. Another Galaxy Opal is none other than Gregg Popovich, the NBA's all-time winningest coach, who is also on this list!
NBA 2K22 Season 5 Locker Codes
2k already started giving us galaxy opals and pink diamonds locker codes. Because 2k did specify that we are going to be getting a ton of free galaxy opals, so they could be locker codes, they could be agendas, they could be some other ways of getting it. Maybe a challenge where you got to score a certain amount of points and you end up unlocking a free galaxy opal. Maybe some more evolution players too since it is going to be a dynamic season evolution card. They definitely do make sense and took it recently have been releasing a lot of evolution players too.
Players definitely looking forward to the new season because season 4 was definitely amazing when it came to free content. Above are just the tip of the iceberg, that is just the beginning. We will keep updating the newest information about 2K22 season 5. Hopefully, they keep it up with the NBA 2K22 season 5 MyTEAM, and the best part always comes out during the season. If you are looking for a reliable NBA 2K22 coins store, Buynba2kmt.com is the best place to go!
NBA 2K24 News Guides

NBA 2K23 News Guides

NBA 2K22 News Guides

NBA 2K21 News Guides
CONTACT US
TEL (USA) : +1-315-889-1198
TEL (UK) : +44-020-32905838
MSN: [email protected]
QQ: 1498133786