Home
>>
News
>>
Best Dribble Moves Animations In Nba 2K22 Season 6 Dribble Combos After Patch For 2K22

Best Dribble Moves & Animations in NBA 2K22 Season 6 - Dribble Combos after Patch for 2K22
Date: 4/18/2022 4:02:53 PM
In order to dribble better in NBA 2K22, some settings and moves will help you a lot in the game. Since the beginning of Season 6, we have a slew of new dribble animations added in different categories. Here, let's go through the best dribble moves & combos in NBA 2K22 Season 6 after patch.
Best Dribble Moves & Animations in NBA 2K22 Season 6 - Fastest Dribble Combos after Patch for 2K22
Firstly, let's go over some important controller settings related to the dribble moves.
Controller Settings
- Vibration: On
- Shot Meter: Off
- Pro Stick Function: Dribble Moves
- Pro Stick Orientation: Absolute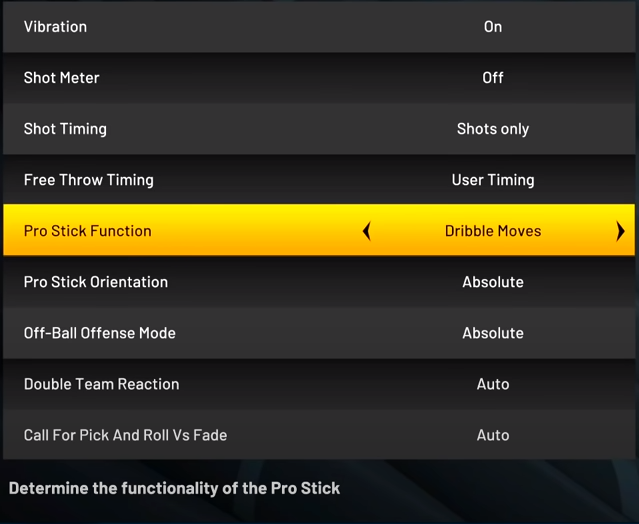 NBA 2K22 Season 6 Best Dribble Moves
2K Sports has added new dribble animations in Season 6 like they previously do. Are they good to use? Let's see what Solo select as the best playmaking moves. We have cheap 2K22 MT for sale, stock budget MyTEAM points to improve your lineup.
- Dribble Style: Quick
The K.Leonard is a new dribble style they added for this season, it is not terrible, but it's not good enough to replace the best ones.
- Signature Size-Ups: S. Francis
For Season 6, they added 4 new signature size-ups, which is one of the most important dribble combos in the entire game. The first one is Kobe Bryant, you can kind of get a nice speed boost out of it, but it's not quick enough to bop the top stage locks or any lock in general, but if you're a beginner you could try this one. Next is Steve Francis, in a long time, this move is insanely good and pretty fast, it is suitable for builds smaller than 6'5" or if you need a high ball handle. The third new signature size-up is James Harden, but this one is very slow, and don't use it. The last one added in Season 6 is Donovan Mitchell, if you don't have a good ball handle or you're just a taller build, you can't get Steve Francis, then pick Donovan Mitchell. This one has a glitchy speed boost that you can get out of it.
- Signature Combos: J. Williams
This dribble move does not matter a lot, but there are still 3 new animations added in Season 6. The signature comb is basically when you hold the right trigger or the spring button and then you flip up on the right stick and it plays out a sequence of dribble moves. The first new comb is De'Aaron Fox, this one is too slow at the beginning and it's just pointless. The second one is Tracy McGrady, this one is also very slow it has a below-average speed boost you can get out of it. The next one is Steve Nash, this is not that good as well.
- Size-Up Escape Packages: T. Young
There is one new size-up escape package for 2K22 Season 6, the Kemba Walker, this one is nothing special. Trae Young is by far the best size-up escape package, this is one of the moves that's going to be very tough to replace
- Moving Crossovers: G. Antetokounmpo
There are no new options for this dribble move, Giannis is the one we are going to choose, Steph Curry or Michael Jordan is also good.
- Moving Behind The Backs: K. Leonard
They did not add any new animations for Moving Behind The Backs, Kawhi Leonard is by far the best one to go with, and it may be the only one that's quick and good.
- Moving Spins: P. Hardaway
Still now new moves for this. You are going to want Penny Hardaway, it's basically the same as Basic.
- Moving Hesitations: K. Durant
Zach LaVine is the new one for Moving Hesitations, it is not amazing, but this move does not really matter.
- Moving Stepbacks: L. Doncic
This is essentially the last dribble move because Triple Threat Styles doesn't really matter and Park Flashy Passes is not even a dribble move. They added James Harden in Season 6, but it's just too slow in the game. Luka Doncic is really good.
NBA 2K24 News Guides

NBA 2K23 News Guides

NBA 2K22 News Guides

NBA 2K21 News Guides
CONTACT US
TEL (USA) : +1-315-889-1198
TEL (UK) : +44-020-32905838
MSN: [email protected]
QQ: 1498133786