Home
>>
News
>>
Nba 2K22 Best Hall Of Fame Badges Hof Finishing Shooting Playmaking Defensive Badges 2K22

NBA 2K22 Best Hall of Fame Badges - HOF Finishing, Shooting, Playmaking & Defensive Badges 2K22
Date: 5/12/2022 11:12:45 AM
Which Hall of Fame badges to choose when making a build in NBA 2K22? HOF badges are not necessarily going to perform well, so you should save your points for the right badges. Today we'll go over some NBA 2K22 best Hall of Fame (HOF) badges that are worth investing in for your current-gen or next-gen builds.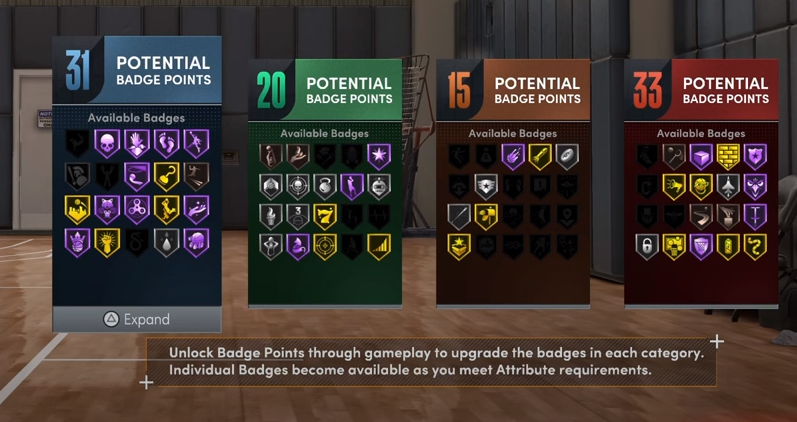 NBA 2K22 Best Hall of Fame Badges - Best HOF Finishing Badges in 2K22
Starting with finishing badges, they are more aimed at the big man and taller players in the game. NBA2KLab introduces the best Hall of Fame badges to get for each category, including finishing, shooting, playmaking, and defensive HOF badges for 2K22.
Fast Twitch
The first HOF finishing badge you should consider is Fast Twitch, to unlock this badge on the Hall of Fame, you need to get your close shot and standing dunk to reach 84 rating, and this is not hard even for defenders. The main benefit of this badge is that it speeds up the ability to stand layups and dunks, HOF Fast Twitch is roughly 7% faster than the gold one, which helps you to avoid getting contested in the paint. So you often finish around the rim, it is a must-have option.
Grace Under Pressure
For Hall of Fame Grace Under Pressure, you need a 93 close shot to unlock it, this badge gives a boost to standing shots that happen close to the basket, it will greatly increase your success under the rim and allow for high percentage buckets, even if there is a little traffic down there. Grace Under Pressure on HOF is one of the best badges for bigs and it makes it extremely tough for the defender to stop you from scoring. This badge can work together well with Fast Twitch.
NBA 2K22 Best Hall of Fame Badges - Best HOF Shooting Badges in 2K22
If you usually play as shooters, these two badges probably are able to offer what you need.
Blinders
Hall of Fame Blinders is one of the best HOF shooting badges to go in 2K22. It needs to be unlocked at a 99 mid-range shot or a 99 three-point shot rating, but it's worth the investment, especially if you play a short point guard as it can only be unlocked with players who are 6'2" or shorter. This badge gets nerfed early in the 2K but it still remains very powerful, being a quick point guard and taking faders or even quick stopping between defenders makes this badge extremely useful to get lower contests.
Circus Threes
This badge has a little more flexibility as you don't need a 99 three-point attribute, but instead for Circus Threes on the Hall of Fame, you need a 91 three-point rating, which is far more accessible. It provides a huge boost on fading and step-back threes, and the HOF level provides insane results. Pairing this badge with HOF Blinders makes it very tough for defenders to get good tests, this combo is super powerful.
NBA 2K22 Best Hall of Fame Badges - Best HOF Playmaking Badges in 2K22
Playmaking badges are more dedicated to the guards and shorter players.
Quick First Step
This is a very popular badge in 2K22, this badge on any level is going to give your player a good boost of speed, however, it is recommended to get Quick First Step to as high a level as you can. If you are a playmaking or scoring guard, getting this badge in the Hall of Fame is crucial, it has a 9% speed increase compared to the gold level. The tallest player who can unlock this badge is 6'3" and you need a 92 speed with ball, which is an expensive stat to upgrade, but it's still worth it. The speed boost you get from HOF Quick First Step makes it very hard for defenders to keep up, which will eventually get you or your teammates open
Handles for Days
Hall of Fame Handles for Days provides a great boost, you need a 91 ball handle to unlock this badge, if you are planning on playing Pro-Am or you are a volume scoring guard who handles the ball, this badge will be useful to you. Shooting with low stamina or energy severely affects your jump shot by slowing down the timing and decreasing the make percentage, which is why having this badge on HOF level can help prevent that, not only that, but it will help your point guard move and change combos that much quicker.
NBA 2K22 Best Hall of Fame Badges - Best HOF Defensive Badges in 2K22
The last category is the Hall of Fame defensive badges you should use in 2K22. The following three badges tend to give you assistance or a boost on the court.
Intimidator
At the start of NBA 2K22, this badge was not very effective on the perimeter, even though it did provide paint protection with invisible intimidator blocks. However, not too long after the launch of 2K22, they released a patch buffing Intimidator, giving it more of a presence on the perimeter when contesting jump shots. Having this badge at the Hall of Fame level can really knock a shooter off his course, even by just getting an open contest. You need a 95 block to unlock it.
Interceptor
The next badge you should get on Hall of Fame is Interceptor, which only takes a 90 steal, this is one of the main attributes to get defensive badge points as a guard. It's going to help with intercepting passes, but since the nerf is gonna help with past deflections, now it's really a good badge to have to help generate extra possessions for your team. Having HOF Interceptor will do just that.
Rebound Chaser
The last badge for a big man is Rebound Chaser on the Hall of Fame, it makes you become a horse especially if you are undersized. You need a 99 defensive or offensive rebound to unlock it, which is a huge investment, but it is worth the points if you are playing as a big man to collect boards.
Need NBA MT or VC for your success in MyTEAM and MyCAREER, Buynba2kmt.com is a reliable partner you can work with.
NBA 2K24 News Guides

NBA 2K23 News Guides

NBA 2K22 News Guides

NBA 2K21 News Guides
CONTACT US
TEL (USA) : +1-315-889-1198
TEL (UK) : +44-020-32905838
MSN: [email protected]
QQ: 1498133786