NBA 2K22 Playoffs Round 2: Which Playoff Moments Card Worth Getting In 2K22 MyTEAM
Date: 5/18/2022 6:21:10 PM
Today we're going to be looking at all of the new Playoffs Round 2 Moments cards in NBA 2K22 MyTEAM. There are 7 Moments cards, which are the NBA 2K22 best Playoffs Round 2 Moments cards worth getting in MyTEAM?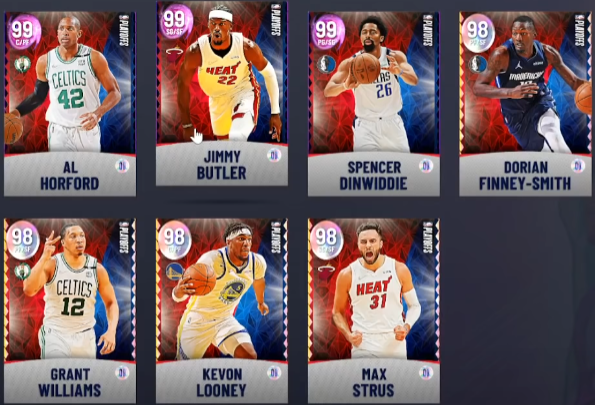 NBA 2K22 Playoffs Round 2: Which Playoff Moments Card Worth Getting In 2K22 MyTEAM
Free Playoffs Round 2 Al Horford, Jimmy Butler, Spencer Dinwiddie, Dorian Finney-Smith, Grant Williams, Kevon Looney, and Max Strus are available in NBA 2K22 MyTEAM. In a total of 4 galaxy opals and 3 dark matters. Today, we talk about some of the best value NBA2K22 Playoffs Round 2 Moments cards in MyTEAM!
Max Strus - 98 - SG/SF - 6'5'' - 6'6''
He is 6'5, 6'6 wingspan, hot spots from everywhere around. With 23 hall of fame, 31 on gold which is pretty solid. They're 96 three-ball, 80 driving dunk, 89 speed, 89 acceleration, 90 lateral quickness, and decent perimeter. He has every shooting badge you could ask for on hall of fame now. Outside of shooting-wise, he doesn't have much else defensively pretty mediocre, and playmakers are pretty mediocre, but he has every single shooting badge in the game, as well as jump shot 4 on very quick, with shifty dribble style and the Scottie moving behind the back. Max Truce is solid in MyTEAM and if you get the NBA 2K22 Playoffs Round 2 card, he is going to be probably the best shooter in the entire game. Because he is the only guy that has every hall of fame shooting badge.
Kevon Looney - 98 - 6'9'' - 7'3''
Kevon Looney is six-nine, seven three wingspans, hot spots from both corners. He has 23 on hall of fame, 21 on gold. He's got decent three-ball, good driving dunk, standing dunk, and solid speed with the ball. Look at the defense on Kevon Looney as well, every defensive status above a 90. 98 rebounder which makes him handle the ball with a quick dribble style at six-nine. This NBA2K22 Playoff moment card is elite. Animation wise. jump shot 40 on very quick, quick dribble style, Stephen Curry moving behind the back. This card is elite at that power forward position, obviously, he's only six-nine so you'd better not play him at that center position.
Dorian Finney-Smith - 98 - PF/SF - 6'9'' - 7'0''
Dorian Finney-Smith shoots hot spots from everywhere outside three-point line. He has 23 on the hall of fame, 26 on gold, 93 three-ball, 90 driving dunk, 85 standing dunk, 90 speed with ball, 92 speed, 92 acceleration, 95 lateral quickness, and great interior perimeter. Dfs is looking really good in MyTEAM, hall of fame quick first step, the defensive badge is solid, shooting-wise it's got everything you need. Animation wise 107 on very quick really solid, quick dribble style, James Harden moving behind the back which is solid. Dorian Finney-Smith is almost good as Jason Tatum.
Spencer Dinwiddie - 90 - PG/SG - 6'6'' - 6'8''
Spencer Dinwiddie all-round 2K22 Playoff Moments card that has 31 hall of fame badges and 25 gold badges. He has 93 three-ball, 90 driving dunk, 94 speed with the ball, 96 ball handle, 94 speed, 94 acceleration, 92 lateral quickness, decent interior, good perimeter, shooting wise solid, playmaking wise absolutely incredible. Defensively does have hall of fame pick dodger but leaves a lot to be desired outside of that. He does get 77 on very quick which is a good release on next-gen. He's got shift dribble style, Lukas size up escape packages, Tray Young moving by the back, not great. He is going to be able to compete on both gens of the court but his animations don't allow him to be.
Jimmy Butler - 99 - SG/SF - 6'7'' - 6'8''
We've gotten so many jimmy butlers in MyTEAM, and this free Jimmy is better than the other Jimmy you have to buy with NBA 2K22 MT. It is absolutely crazy that you got a chance to get one of the top shooting guards in the game. He has jump shot 22 on very quick, shifty dribble style, Scotty behind the back, Lukas size of escape and he's going to just be one of the best defensive players in the NBA 2K22.
As for the NBA 2K22 Playoffs Round 2 cards ranking, the best Jimmy Butler, the second-best card is Dorian Finney-Smith if you can find handles for days for cheap. Number three is Dinwiddie.
NBA 2K24 News Guides

NBA 2K23 News Guides

NBA 2K22 News Guides

NBA 2K21 News Guides
CONTACT US
TEL (USA) : +1-315-889-1198
TEL (UK) : +44-020-32905838
MSN: [email protected]
QQ: 1498133786