Home
>>
News
>>
Nba 2K22 Best Supernova Invincible Cards Which Supernova Invincible Worth Getting In Myteam

NBA 2K22 Best Supernova & Invincible Cards - Which Supernova & Invincible Worth Getting In MyTEAM
Date: 5/11/2022 11:33:21 AM
In NBA 2K22 MyTEAM, which Supernova and Invincible cards are worth buying with 2K22 MT? 2K gives us three dark matters, three opals, four diamonds, two pink diamonds, and the best Invincible card we've seen in years literally in NBA 2K22! People were saying Shaquille O'Neal is the god-tier NBA 2K22 Invincible card. If you don't have Shaq, you're screwed! Now, we are looking at the best NBA 2K22 MyTEAM Supernova & Invincible cards you can get.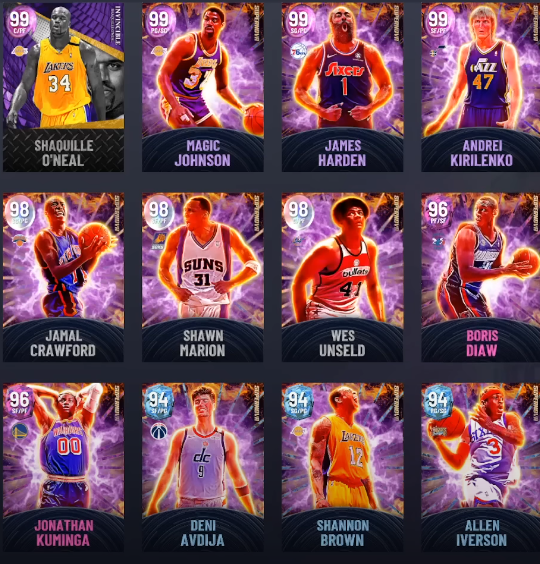 NBA 2K22 Best Supernova & Invincible Cards - Which Supernova & Invincible Cards Worth Getting In MyTEAM
With Supernova & Invincible cards update in NBA 2K22, Deni Avdija could be a potential game-changer because last year Deni Avdija came up base three. Since he's got a set shot one and fundamental dribble style, this guy is useless. 2K gave Shaq quick dribble style but you can't give Deni. Jamal Crawford may be the best dribbler of all time. But Supernova Jamal Crawford has the exact same things as diamond. But why Jamal Crawford has the worse dribbling than NBA 2K22 Invincible Shaquille O'neal? We are cool with you not just giving juice dribble sigs to everybody, but at least Jamal Crawford, he might be the shiftiest player ever.
Let's focus on the most overpowered NBA 2K22 Supernova & Invincible cards
1. Rik Smits - C - 94 - 7'4'' - 7'7''
We got a Yao Ming stopper for free! Rik Smits has base 22 on quick, fundamental dribble style, really good contest tendencies. He is 7'4 and 7'7 wingspan and has 79 speed, 79 acceleration, 95 stamina, 78 three ball, 80 driving dunk, 74 speed ball, really good finishing badges, and really good defensive badges. This is a guy that will be you have to probably sit him on the end of your bench. Rik Smits is one million percent of the game-changer. He's one of the best budget NBA 2K22 Supernova and Invincible cards that every a lot of budget guys can have in the squad.
2. Iman Shumpert - PG/SG - 94 - 6'5'' - 6'9''
Iman Shumpert is a 6'9 point guard shooting guard who has 94 speed, 94 acceleration, 90 three ball, 80 interior, bad block, and 95 driving dunk though. He's clamps, interceptor, intimidator, menace, pick dodger, pickpocket, quick first step, and downhill. From here, you will already love this NBA 2K22 Supernova card! Moreover, he has base 32 on very quick, he's the only player again basically doing very quick which is alright. He's got shifty dribble style, S.Pippen behind the back, K. Durant escape, D. Lillard combo, and pro size up. He'll be an okay Supernova card in NBA 2K22 considering the fact that these are going to be like guaranteed packs and the diamonds are all going to be cheap.
3. Jonathan Kuminga - SF/PF - 96 - 6'8'' - 7'1''
Kuminga has Giannis on very quick, quick dribble style, basic moving behind the back, but Kobe escape packages. He's got 89 three ball comes at the range, 92 perfect defensive stats, and great defensive tendencies. What's more, he is 6'8 and 7'1 wingspan at the small forward and point forward positions. Jonathan Kuminga is a really good 2K22 Supernova card.
4. Magic Johnson - PG/SG - 99 - 6'9'' - 70''
Magic Johnson comes up with 96 speed, 96 acceleration, 90 three-ball, perfect defense stats, and perfect inside scoring badges. Defensively no interceptor, he comes at all them and the rebound badges. He's probably our Simmons stopper but he's going to be expensive. Magic Johnson is on very quick, quick dribble style, but having a quick dribble style will not make him run. After all Magic Johnson's inability to run is still a bit of a problem in 2K. But Magic is a perfectly fine NBA 2K22 card in MyTEAM! If he can run, he is absolutely an elite.
5. James Harden - SG/PC - 99 - 6'5'' - 6'10''
We've got Harden to save us. He's got 95 speed, 95 acceleration, 96 three-ball, 90 driving dunk, 95 speed with ball, and 95 perimeter defense. Defensively, Harden is possible, playmaking is good, shooting he's going to be really good, and he's unblockable dunk-wise. Thankfully he still has the Harden lower base and upper release, but he has the shifty dribble style and S.Pippen moving behind the back. Anyway, Harden is a good card.
6. Shaquille O'Neal - C/PF - 99 - 7'1'' - 7'7''
Shaquille O'Neal is the best NBA 2K22 Invincible card we have seen in years. Shaq has a quick dribble style, how are you meant to guard him? No to mention he has almost 99 in every stat, 65 hall of fame badges, and Shaquille O'Neal on very quick. The only thing that can save us lads is if Shaq does one dribble move, he's going to get tired, even though he has 99 stamina. Thank god he doesn't come with chef and circus threes. And nobody's going to guard Shaq if he is playing power forward. Because of Shaq's animation, he is going to drop step and get weird dunk animations by people. Shaq is the damn best Invincible card NBA 2K22 and he's got half handles for days and everything.
Conclusions
Galaxy opals are going to be between 15 and 35k, Shawn Marion is worth that range. The pink diamonds Kuminga are fine. The diamonds Shumpert is okay but the rest of them suck. The NBA 2K22 best Supernova and Convicible cards today, Shaq no.1 and Rik no.2.
NBA 2K24 News Guides

NBA 2K23 News Guides

NBA 2K22 News Guides

NBA 2K21 News Guides
CONTACT US
TEL (USA) : +1-315-889-1198
TEL (UK) : +44-020-32905838
MSN: [email protected]
QQ: 1498133786