NBA 2K22 Best Galaxy Opal Cards - Galaxy Opal Tier List in 2K22 MyTEAM
Date: 3/14/2022 4:33:08 PM
There are various ways to get and earn free Galaxy Opal cards for free in NBA 2K22 MyTEAM, such as leveling up, limited-time or lifetime challenges, locker codes, winning games, etc., you can also buy them with MyTEAM points. Which are the best GO players to get? We present the NBA 2K22 Galaxy Opal tier list here and you can find the best Galaxy Opal cards in MyTEAM.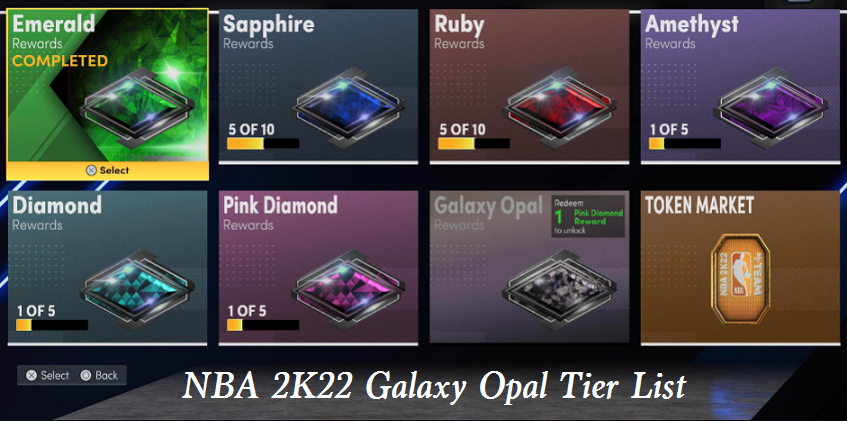 Related Read: NBA 2K22 Season 6 Best Jumpshot
NBA 2K22 Best Galaxy Opal Cards - Galaxy Opal Tier List in 2K22 MyTEAM
What Galaxy Opal cards are worth getting or purchasing in NBA 2K22 MyTEAM? Here is a Galaxy Opal tier list by DBG for 2K22. Each player may receive positive or negative reviews, but if you do not have enough time for grinding or enough MT coins, you can consider the S-tier GO cards first.
S tier - Lonzo Ball, Reggie Lewis, Jayson Tatum, Cincinnatus Powell, Kevin Durant, Thurl Bailey, Joel Embiid, Yao Ming

- Lonzo Ball: is the best point guard defender in the game and has plenty of HOF playmaking badges.
- Cincinnatus Powell, he's going to be a demi-god.
- Reggie Lewis: Kemba base with upper 8, shifty, Pippen BTB, HOF quick first step, and all the important HOF defensive and finishing badges.
- Jayson Tatum: is one of the best small forwards.
- Joel Embiid is one of the best centers and a fantastic player.
- Yao Ming can be super effective including like against anybody, he can be he's one of those difficult players to have to deal with next-gen.
- Kevin Durant is freaking good, he can move, he can shoot, you get the behind the back he dunks almost perfectly, he has really good stats.
A tier - Shawn Kemp, Yi Jianlian, Jalen Rose, Carmelo Anthony, Klay Thompson, Evan Mobley, Paul George, Karl-Anthony Towns, James Harden, Giannis Antetokounmpo, Grant Hill, Zach Lavine, Richard Hamilton, Wilt Chamberlain, Zydrunas Ilgauskas
- Carmelo Anthony is pretty good in defense and shooting.
- Evan Mobley, he can shoot, he can handle a little bit, he's a big dribble style and he also blocks shots at a high rate. His defensive movement is good.
B tier - Jarrett Allen, Anthony Davis, Nikola Jokic, Andre Iguodala, Danny Granger, Derrick Rose, LeBron James, Michael Jordan, Morris Peterson, Pascal Siakam, Shareef Abdur-Rahim, Sidney Moncrief
- Andre Iguodala is a really good player, the only problem with Iguodala is that he's just not very good at creating a shot but everything else, especially defense.
C tier - Marc Gasol, Dan Issel, Paul Millsap, Dennis Rodman, Devin Booker, Ja Morant, Larry Bird, Maurice Lucas, Shai Gilgeous-Alexander
- Marc Gasol got like an HOF interceptor, he's just a bigger body has more half badges.
- Devin Booker is definitely better than Allan Houston.
D tier - Obi Toppin, Antawn Jamison, Allan Houston, Chris Bosh, Chris Paul, DeMar DeRozan, Dominique Wilkins, Donovan Mitchell, Monta Ellis, Stephen Curry
- Allan Houston is not the greatest at anything except catch and shoot threes, and his defense is not brilliant, he can't really move.
- Antawn Jamison came at the very start of NBA 2K22 Season 4, he was a lock-in word, he doesn't do anything well enough to go into C-tier.
- Chris Bosh is better than Amar'e and he's better than Blake.
- Dominique Wilkins, his release is a little bit iffy, but it's not slow, his dunking and defense are good, and he is a taller and better Anthony Edwards.
E tier - Amar'e Stoudemire, Baron Davis, Blake Griffin, Anthony Edwards, Allen Iverson, Rafer Alston, Kyrie Irving, Luka Doncic
- Amar'e Stoudemire, is not the greatest and not bad either, you have to put him in E-tier.
- Anthony Edwards is not as good as Allan Houston, normal timing, release base, dribble style, he is not terrible, but he's going to go E here.
- Baron Davis, his overall game is decent, it's just low interior, there are a couple of things that he doesn't do great.
- Blake Griffin, doesn't play good enough defense to put on above E.
NBA 2K23 News Guides

NBA 2K22 News Guides

NBA 2K21 News Guides
CONTACT US
TEL (USA) : +1-315-889-1198
TEL (UK) : +44-020-32905838
MSN: [email protected]
QQ: 1498133786