Home
>>
News
>>
Nba 2K23 Best Team For Each Position Top 3 Best 2K23 Mycarrer Teams For Pg Sg Sf Pf C

NBA 2K23 Best Team For Each Position - Top 3 Best 2K23 MyCARRER Teams For PG, SG, SF, PF & C
Date: 8/1/2022 9:22:24 AM
NBA 2K23 is about to come out. What are the teams to join for your MyCAREER at the start of the game? So here are the top 3 best NAB 2K23 MyCAREER teams for each position to join. If you're starting a brand new NBA 2K23 MyCAREER, let's get into NBA 2K23 best team for shooting guard, point guard, small forward, power forward, and center!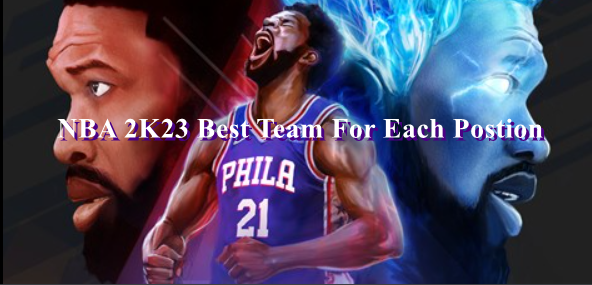 NBA 2K23 MyCareer Best Teams For Each Position (PG, SG, SF, PF & C)
Choosing a team is just so important in NBA 2K23. If you don't choose the right team yourself, you get drafted to a bottom-feeder team like the Thunder or the Pistons. Furthermore, it's rough trying to win games fellas as a 60 overall. When you play with the best team in NBA 2K23, don't take away minutes from the team superstar. You need to look at what position you play and what position the team superstar plays in. You don't want to be in the same positions. You want him on the court with you and for as long as possible. When you are taking minutes away from him, it only hurts your team more than it helps.
NBA 2K23 Best Teams For Point Guard (PG)
Boston Celtics
They need a point guard, somebody that's going to bring the ball down the court, get the ball to Tatum and get the ball to Brown. He also can carry a little bit of scoring load themselves when Brown and Tatum can't get it going.
Dallas Mavericks
The next best NBA 2K23 team for point guard is the Dallas Mavericks. Luka handles the ball for a majority of the time, but they're not playing to their full potential. But a point guard here to play with Luka, a good scoring point guard. Because we know Luka can handle the ball, he can get people the ball, he's what like third or fourth and assists in the NBA. So a good scoring point guard or somebody that can shoot come to this team, it could be a lot of fun.
New York Knicks
Our third and last team needs a point guard. This team needs every position but this is 2k and we can make it work with just a point guard. Bring your point guard here. You got Randle, you got RJ Barrett, and Mitchell Robinson, he's going to block shots down low. Evan Fournier is going to hit threes for you. Any type of point guard build is going to work here because the Knicks need any help you can get. It's MyCAREER, you can go and win a title with any team you join. But the Knicks need somebody to spark up this fan base.
NBA 2K23 Best Team For Shooting Guard (SG)
Los Angeles Lakers
First NBA 2K23 best team for shooting guard. Lebron and Malik Monk have been playing really good, you can play better at shooting guard on this team, so come join Lebron and help the Lakers dig out of this hole that they put themselves in. They need a good shooting guard, a shooter. They need three-point shooting, someone they can rely on from behind that three-point line.
Atlanta Hawks
Trae Young needs some help. This team needs someone that can score the ball. So go to the Hawks, help Trae Young out, help him score that ball.
Charlotte Hornets
They do have scary Terry Rozier, he's only 6'1. If you can get a shooting guard here with a little bit size 6'5. Terry will more than likely move to the six-man roll which Terry's a pure scorer and he's going to come off the bench. That'd be a good role for him to come off the bench and just start getting buckets. So come here for your shooting guard, play with Lamelo, and help build this young team up.
NBA 2K23 Best Team For Small Forward (SF)
Portland Trail Blazers
The first NBA2K23 best team for small forward is the Portland Trail Blazers. Damian's all by himself now. Just help him have a little bit of success in the playoffs. That's all he really wants to see is just a little bit of success. Shooting guards, small forwards, and power forward, can use a lot of positions. A good size small forward maybe someone like 6'8 like a Lebron type of build would be perfect for this team. Because they want to see Damian Lillard playing with Lebron, so come check it out.
Philadelphia 76ers
Philadelphia 76ers got James Harden and Joel Embiid. Tobias Harris plays the power forward and Maxey is more than likely to play at the two guards because Harden's going to play at the one even though he's 6'5. This team is going to be scary. Come play the best 2K23 team for a small forward, you're going to have a lot of fun with this brand new formed team.
Utah Jazz
The final best NBA 2K23 team for small forward is the Utah Jazz. They got Conley, Mitchell, Gobert, and Clarkson coming off the bench. This team needs a small forward. Any type of build, maybe a nice defensive build that'd be fun here on the Utah Jazz.
NBA 2K23 Best Team For Power Forward (PF)
Chicago Bulls
Chicago Bulls has every position in their starting lineup. They got Lonzo Ball, DeMar DeRozan, Zach LeVine, and then no one at the four. Then they got Vucevic at the five. So come play here at the four, a nice rebounding dude, interior paint beast type of build would be dope to play with the Bulls. Because they're having a great season, why wouldn't you want to be part of that fun?
Dallas Mavericks
Coming to play here at power forward would really help up Lukas's game. They need a stretch, someone that's reliable, someone that can block shots that's why they need a Porziņģis type player that's not Porziņģis. Because he and Luka weren't getting along.
Minnesota Timberwolves
The final NBA 2K23 best team for MyCARRER is the Minnesota Timberwolves. They're having a good year, Russell's playing well, Anthony Edwards is playing well, and Karl Anthony is playing great. They need a power forward to go down low with Karl. He can step it out on the three-point line. Get someone that can maybe clean up his misses, and help open up his three-point game a little bit. Because Karl he's not really a rebounder, he's a good scorer, he could score all three levels inside three points in and mid-range. He just needs a beast, a hustle guy down in the paint, just grab them rebounds for him, kick it back out, go back up with it, clean him up.
NBA 2K23 Best Team For Center (C)
San Antonio Spurs
Our first NBA 2K23 MyCAREER best team for center is San Antonio Spurs. Dejounte Murray is nice, he has some play-making abilities and he's a great defender. They need a big man. This team is in full rebuild mode no doubt. But why not just come play with them. Murray will be taking Poeltl though he's not anything too fancy. They also got Lonnie Walker IV. They ain't got too many assist opportunities, but for a big man that wants to come and get rebounds and points, double-doubles, can happen here in San Antonio Spurs.
Toronto Raptors
Toronto Raptors haven't had a good center in a while. This team has Fred VanVleet the young all-star, OG Anunoby is a great defender, Siakam has been playing really well lately, Scottie Barne's the sparring to the young rookie, he's playing pretty good and they got decent supporting cash here. So a center build for the Toronto Raptors would be a good double double machine, somebody's going to bang down low and just get rebounds and buckets.
Charlotte Hornets
Charlotte Hornets is missing a decent piece at center. P.J Washington plays center for them at times, he's 6'7. But that's not what Lamelo needs. Lamelo needs someone to throw them lobs to someone like a Jarrett Allen type of dude. If Lamelo Ball had Jarrett Allen that would be crazy, that would be insane. But he doesn't and now is your chance to help him out. So join the Hornets with your center build.
Above are NBA 2K23 best teams for pg, sg, pf, sf, and c. You'll undoubtedly want to choose the best squad for your build in NBA 2K23 MyCareer Mode before embarking on your journey to greatness. If you need to buy NBA 2K23 MT, buynba2kmt.com can be your reliable store.
NBA 2K24 News Guides

NBA 2K23 News Guides

NBA 2K22 News Guides

NBA 2K21 News Guides
CONTACT US
TEL (USA) : +1-315-889-1198
TEL (UK) : +44-020-32905838
MSN: [email protected]
QQ: 1498133786