NBA 2K22 Best MyTEAM Lineup - Best Cards for 2K22 Budget Overpowered Team
Date: 7/18/2022 4:09:23 PM
How to run the best team within your budget? If you are building your squad in MyTEAM, here you can find the most budget and overpowered cards in the following NBA 2K22 best MyTEAM lineup, including main team and substitutes.
NBA 2K22 Best MyTEAM Lineup - Best Cards for 2K22 Budget Overpowered Team
What are the best cards to use in your main team and who can be used for the substitutes in the lineup? Let's check out DBG's 100K MyTEAM lineup (squad) for NBA 2K22, with budget dark matters, galaxy opals and more, including the selected cards for PG, SG, SF, PF and C, as well as substitute players.
Starting Lineup
Point Guard (PG)- DM Johnny Davis - 99 OVR
Let's start with the point guard position, Johnny Davis is good, you got to put him into the team, the price of this card is less than 10K MT points, one of the best point guards period in the game, you can buy this dark matter at a very budget price.
Shooting Guard (SG) - GO Gerald Wallace - 98 OVR
Then we got Galaxy Opal Gerald Wallace with a 98 overall to play the shooting guard in this MyTEAM lineup, this card only costs a price of 7.5K, give him Circus Threes and Chef badges, and he becomes an equivalent of Kawhi Invincible.
Small Forward (SF) - DM Zion Williamson - 99 OVR
For small forward, Zion Williamson is probably cheap, you can get a Dark Matter Zion for around 11K MT, this is a fantastic small forward use, his base is very quick, he's an all-around good player, you obviously have the evo, but he's very easy. And Aleksej Pokusevski is a cheaper choice.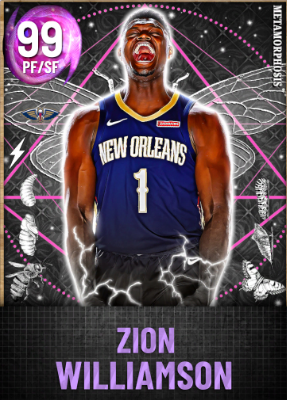 Power Forward (PF) - DM Ben Wallace - 99 OVR
Moving on to the power forward position in the team for 2K22 MyTEAM, we can put Dark Matter Ben Wallace in the starting lineup.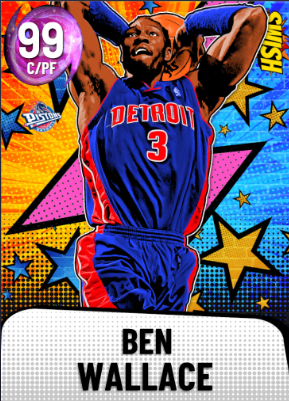 Center (C) - DM Shaquille O'Neal - 99 OVR
The last position of the MyTEAM lineup is center, Shaquille O'Neal is pretty good and coming in at center, about 9.3K.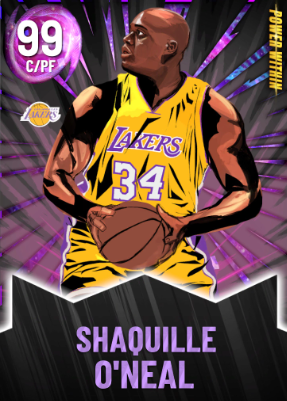 Substitute Players
GO Domantas Sabonis - 98 OVR
The the backup of point guard, you are gonna have GO Domantas Sabonis, you need this bonus point guard card, he is really good and not expensive, sells at around 7K MT, so you can only cost 13K for those two cards.
GO Drazen Petrovic - 98 OVR
For backup shooting guard, GO Drazen Petrovic is a good card to go, you can get him for really cheap, he is probably better than Bennedict Mathurin. He also got that base three on very quick, super easy-to-time release, he is no-brainer and a good player that's about 6K MT.
GO Larry Nance - 98 OVR
You can get Larry Nance with 10K MT, what you can get with Larry Nance and Danny Ferry, with the Dynamic Duo, it gives 45 HOF badges and massive attribute boosts, he becomes a dark matter, combines the excellent defensive stats, like 97 interior defense, 97 perimeter defense, 97 lateral quickness, 97 steal and more. He also got a good release with D. Rose.
GO Danny Ferry - 98 OVR
The next card to pick for the team is GO Danny Ferry, his price is around 7.5K. You put Danny Ferry in and put in Larry Nance, you got 45 HOF badges and god-tier great release, ball handle and one of the best onboard offenders in the game, then you got Danny Ferry with Dynamic Duo, it brings almost perfect stats, in terms of his badges, he got 46 HOF badges, this is a ridiculous combo.
PD Roy Hibbert - 96 OVR
Finally we are going to put Pink Diamond Roy Hibbert as the backup center, he is a big man and he is going to be really cheap.
NBA 2K24 News Guides

NBA 2K23 News Guides

NBA 2K22 News Guides

NBA 2K21 News Guides
CONTACT US
TEL (USA) : +1-315-889-1198
TEL (UK) : +44-020-32905838
MSN: [email protected]
QQ: 1498133786