NBA 2K22 Season 9 Rewards - Release Date, Level 40, Clutch Time, Unlimited & More Rewards
Date: 8/10/2022 4:51:50 PM
NBA 2K22 Season 8 is coming to end. Season 9 is going to start soon which is the final season of 2K22. We have NBA 2K22 Season 9 rewards whether they are new or not. And NBA 2K22 MyTEAM Season 9 is going to be the best or the worst all depends on the rewards. In this NBA 2K22 Season 9 update prediction, we talk about all the rewards you could get.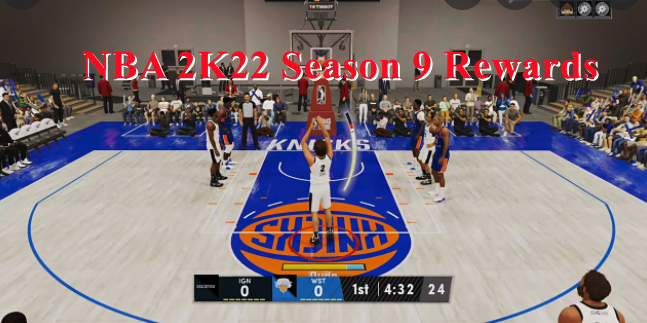 NBA 2K22 MyTEAM Season 9 Rewards Guide
Last year in Season 9, we actually ended up getting a very interesting update in MyTEAM. Julius Erving was the level 40 reward which is a 70 hall of fame badge Invincible. Our final season last year actually dropped in July. We are obviously in the month of August, so it's a lot later in the year. With Invincible John Stockton, Invincible Isiah Thomas, Invincible Christ Paul, Promos, Spotlight Challenges, and 5 G.O.A.T cards, can we expect NBA 2K22 Season 9 to be as good as NBA 2K21 Season 9? What are we going to be seeing again this season?
NBA 2K22 Season 9 Release Date
NBA 2K22 Season 9 MyTEAM will start this Friday, August 12th at 8 am PST/11 am EST.
NBA 2K22 Season 9 Level 40 Rewards
First things first, there is a community poll in the game that says which one of these players you like the most. We have Magic Johnson, Larry Bird, Brian Scalabrine, and Boban Marjanovic. This poll is going to be for the level 40 reward in NBA 2K22 Season 9 and we are most likely to end up getting Magic Johnson or Larry Bird because 50% of players have voted for Magic and 28% of players have voted for Larry be the most popular player. Now that does not mean that Bobon and Brian are not going to be other rewards because we do have a ton of other game modes.
When it comes to level 1, we should be getting a reward just for getting into the new season. If they do go with an End Game card, there are a lot of good End Game cards. It would be really cool to get a free Scottie Barnes. They could also go with an Invincible. If it is going to be a new player, we would love to see Russell Westbrook. We are expecting Russell Westbrook to get a card at some point, we haven't gotten one and we might not see one. But if they do go with a new player we would love to see Westbrook get a free end-game card as a reward in MyTEAM for Season 9.
NBA 2K22 Season 9 Clutch Time Rewards
For Clutch Time, we need someone that was known and we have a lot of options, Michael Jordan, and Lebron James. Lebron James is clutch no matter what, anybody says Kevin Durant may be, but Tracy Mcgrady wouldn't be a bad option either. If 2K does end up giving us a current End Game for Clutch Time, we want to see Kobe be on the wheel or as a reward where after a certain amount of games, you just end up getting a free Gnd Game Kobe Bryant. If they go with a new player, Dwyane Wade is the person that we really want to see get an End Game. It would just make sense for Clutch Time too, he's quick, Clutch Time also quick and fast.
NBA 2K22 Season 9 Unlimited Rewards
For Unlimited, if they were to go with a current player that we already have. It has to be an End Game Giannis Antetokounmpo. Giannis is a really good card and so if anybody is crazy enough to play Unlimited for the final season, we should definitely get an End Game or maybe even someone crazier. Maybe a Tacko, maybe a Yao Ming. If they with a new one, Tatum could get a card. He didn't even get an Invincible for the run that he had with the Celtics.
NBA 2K22 Season 9 Limited Rewards
No one knows exactly how 2K is going to make the NBA2K22 MyTEAM Season 9 rewards for Limited. But if they do go with a player, let's go with Luka Doncic. He would be a nice reward even though nobody would really go for the Limited reward, especially if it's an older player. But if they do add a player, the prediction is going to be Luka Doncic. If they do go with a new card or any new player, we want to see the big boy Zion Williamson. There are so many players that still have not gotten an End Game and probably are not going to get one this year. There are so many players that 2K is completely missing.
NBA 2K22 Season 9 Ascension Rewards
When it comes to the Ascension reward, maybe a random End Game that 2K could just throw in there and that would probably be somebody like Carmelo Anthony. If 2K does go with a new player, we want to see Tim Duncan and it's just so crazy seeing players for example Ben Simmons.
NBA 2K22 Season 9 Draft Rewards
When it comes to the Drafts, we are thinking of somebody that would make sense for the Draft mode and that could be Kristaps Porzingis. If 2K does go with a new player, we want to see Hakeem Olajuwon out here. He was disrespected this year too. He got like one really good card and then after that 2K never really updated him.
Could we get one final token market update? Are they going to add rewards or are they going to add previous players? We have no idea. If you are planning on buying NBA 2K22 MT to prepare for Season 9 NBA 2K22 releases, Buynba2kmt.com sells cheap and legit MT.
NBA 2K24 News Guides

NBA 2K23 News Guides

NBA 2K22 News Guides

NBA 2K21 News Guides
CONTACT US
TEL (USA) : +1-315-889-1198
TEL (UK) : +44-020-32905838
MSN: [email protected]
QQ: 1498133786