Home
>>
News
>>
Nba 2K23 Best Badges For Shooting Finishing Defense Playmaking Badge Tier List In 2K23

NBA 2K23 Best Badges for Shooting, Finishing, Defense & Playmaking - Badge Tier List in 2K23
Date: 8/26/2022 4:14:17 PM
A bunch of new badges are coming into NBA 2K23, what badges are going to be the best for MyPLAYER builds, and what are useless? Now let's take a look at the latest badge tier list to find out the best badges in NBA 2K23, including some of the great options for shooting, finishing, defensive, and playmaking.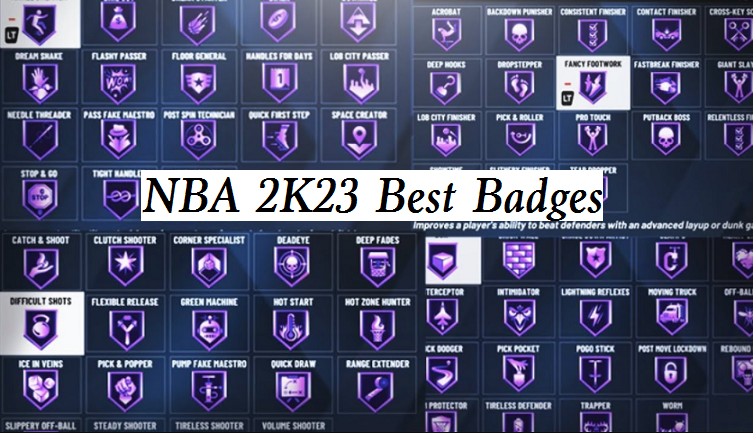 NBA 2K23 Best Badges for Shooting, Finishing, Defense & Playmaking - Badge Tier List in 2K23 MyCAREER
Before the game starts, PAC Hoops had a tier list of NBA 2K23 new badges. Overall, the six S-tier badges are going to be some of the best NBA 2K23 badges, and you probably don't need those ranked as C or D-tier badges. For 2K23 best badges for each category, you can have Limitless Range and Claymore for shooting, Challenger and Anchor for defense, Bully for finishing, and Vice Grip for playmaking.
S tier: Limitless Range, Challenger, Anchor, Bully, Vice Grip, Claymore
- Limitless Range: this is a must-have shooting badge in 2K23 if you want to be good in the game.
- Challenger: a defensive badge that improves the effectiveness of perimeter shot contests, if it can effectively contest shots, it is a no-brainer and is put in the S tier.
- Anchor: this is going to be broken, if you're the last player under the basket, it's gonna help you stop getting dunked on and stop shots under the basket when people drive.
- Bully: this one's really interesting, this sounds absolutely broken, if you're a bigger slasher, you can just run through people one dunk, there's gonna be very few builds stopping this, it is going to be maybe one of the best badges in the game.
- Vice Grip: this is for centers improves the ball security immediately after scoring a rebound catch or picking up the ball, this is one of the best badges for centers because centers were never able to get unpluckable, and now they can.
- Claymore: it increases the spot-up shooter's ability to knock down a catch and shoot jumper as long as they made stationary prior to shooting, there are lots of players who play 2K games and just sit in the corner, they are gonna use the badge, that's two-thirds of a team that just sit in the corner and do nothing or at least a third of the team, Claymore is going to be an essential badge in this game where a lot of people are gonna be running it.
A tier: Boxout Beast, Space Creator, Slithery, Killer Combos, Clamp Breaker, Agent 3
- Boxout Beast: it helps rebounders win boxout battles, especially just the Box rebound for offense and defensive situations, if you're a center or the big man in the Park, this is a no-brainer, you're gonna need to get it.
- Space Creator: this used to be a playmaking badge and now is a shooting badge, it will boost the ability to hit step-back jumpers and hop shots, and it'll also cause defenders to stumble more, you're gonna have your opponent stumble down, this is gonna be a pretty important one.
- Slithery: this has always been an essential badge, it helps you get through traffic when you go for dunk layups and all that kind of stuff, it avoids strips, it avoids getting stopped for dunks
- Killer Combos: a playmaking badge a dribbler's effectiveness with size-up dribble moves, that is going to be a very important badge, if you're a ball handler, you're gonna need this badge.
- Clamp Breaker: it is basically just the opposite of Clamps, you're gonna have to get it as a play shot.
- Agent 3: it's the ability to hit three-point shots off the dribble, this one is hard to tell, there has already badges helping you hit threes. Now it is put in the A tier.
B tier: Hand Down Man Down, Glove, Work Horse, Masher, Amped
- Masher: this is a finishing badge, it increases the ability to finish inside layups over defenders, it's probably going to be good if they actually fix layups, but if they didn't, it's gonna be down here.
- Work Horse: it's the Patrick Beverley helps you win hustle 50/50 balls and gets played, you got to play good defense without getting tired, it's a good badge, you're gonna win the strips in 50 50 situations, but you don't really lose stamina guarding people.
- Glove: it's literally the Gary Payton badge where you strip players for gathering shots and poke the ball free from ball handlers, it is going to be just okay but not essential.
- Hand Down Man Down: it makes the outside shooter even deadlier if an opponent fails to put their hand in their face, this is gonna be a badge that's going to catch people off guard, but not one of the best badges in 2K23.
- Amped: it reduces the shooting attribute penalties when fatigued when moving excessively prior to shooting, you're gonna need it but probably a Bronze.
C tier: Mismatch Expert, Middy Magician
- Middy Magician: it improves the ability to make midrange jumpers off the bounce or out of the post, but very few people do it, and it seems that no reasons for using it.
- Mismatch Expert: it's formerly a shooting badge and now a playmaking badge that helps smaller guards break down a defender when they're mismatched one-on-one, it's going to be a C because very few situations are like a center gonna switch on the guard, it happens rarely. It's probably a good badge but not going to be useful compared to other ones.
D tier: Comeback Kid
- Comeback Kid: this improves the ability to shoot perimeter jumpers when trailing in a game, it likes a clutch badge that you don't need in the first place, it is one of the worst badges in the game.
Ready for the upcoming game at early September? Get cheapest 2K23 MT points to build your lineup in MyTEAM.
NBA 2K24 News Guides

NBA 2K23 News Guides

NBA 2K22 News Guides

NBA 2K21 News Guides
CONTACT US
TEL (USA) : +1-315-889-1198
TEL (UK) : +44-020-32905838
MSN: [email protected]
QQ: 1498133786