NBA 2K23 Core Badge Pattern Guide - Best Core Patterns, How To Unlock & Use Them In 2K23
Date: 12/8/2022 6:21:53 PM
Since season 3 came out, everything is changing in NBA 2K23. We can core two badges in the same category because the original way is you can core one badge in each category. Today we're going to talk about the new core badge pattern that just dropped for NBA 2K23 season 3. So that you will know the different patterns that you can have for the new core badge system.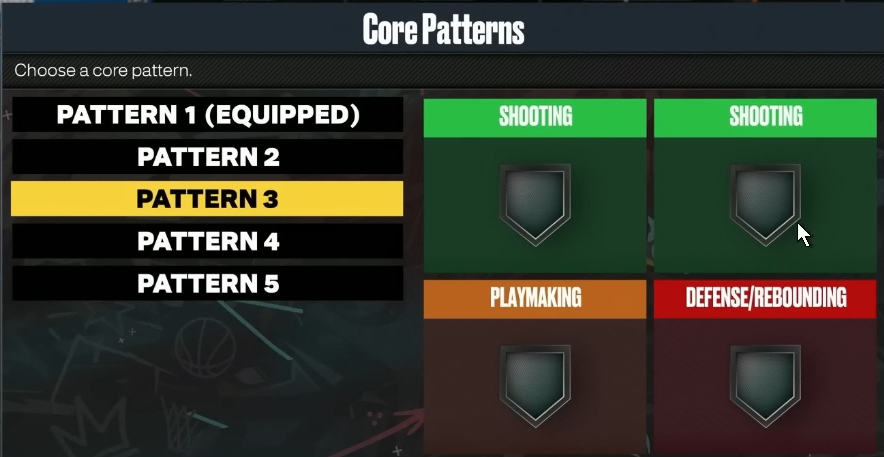 NBA 2K23 Core Badge Pattern Guide - Best Core Patterns, How To Unlock & Use Them In 2K23
The new core badge pattern in NBA 2K23 season 3 is going to make your player so much better. What the NBA 2K23 core badge pattern does is it will give you more options on our core badges. Right now the default pattern is one for finishing, one for shooting, one for playmaking, and one for defense. So if you unlock this new core badge pattern, you can now set it to different patterns.
NBA 2K23 Core Badge Pattern Types
Pattern 1 - 1 Finishing, 1 Shooting, 1 Playmaking, 1 Defense/Rebounding
Pattern 2 - 2 Finishing, 1 Playmaking, 1 Defense/Rebounding
Pattern 3 - 2 Shooting, 1 Playmaking, 1 Defense/Rebounding
Pattern 4 - 1 Finishing, 2 Playmaking, 1 Defense/Rebounding
Pattern 5 - 1 Finishing, 1 Playmaking, 2 Defense/Rebounding
For example, we have Pattern 2 which is two finishing, one playmaking, and one defense. So with this one, you're adding one core badge on your finishing but you're taking away your core shooting badge. Basically, each new pattern will overplay one aspect of your game but will take away one.
How to Unlock NBA 2K23 Core Badge Pattern
You just have to hit a level 40 on next gen to unlock the core badge patterns. That's the season 3 level 40 rewards.
NBA 2K23 Best Core Badge Patterns
Pattern 3 is going to be a big one that everybody going to be doing pattern 3 because you can have two shooting badges. Pattern 5 you'll be running two defenses which will also be one of the best core badge patterns in NBA 2K23. If you are a great player that gets a great play shot, 6'1, and gets two shooting badges core, it's going to be very hard to stop that person. For the lockdowns, core two defense badges, it's going to be very hard to get that lockdown up off of you.
How To Use Core Pattern Badges In NBA 2K23?
If you have a lot of shooting badges, you are going to have 40 shooting badges on one build if you have 2 shooting cored. For example, if you have Hall of Fame Deadeye on your Sharpshooter and Hall of Fame Limitless, you can core both of those and save 14 badge points and put those 14 somewhere else. The 2K23 core badge pattern update is a major W. Because it will bring more variations on builds and it gives you a reason to grind for level 40 because it's not just cosmetics anymore. People are going to be making new builds based on the badge patterns NBA 2K23.
NBA 2K23 News Guides

NBA 2K22 News Guides

NBA 2K21 News Guides
CONTACT US
TEL (USA) : +1-315-889-1198
TEL (UK) : +44-020-32905838
MSN: [email protected]
QQ: 1498133786