Home
>>
News
>>
Nba 2K23 Mycareer Attributes How To Upgrade Attributes In 2K23 Next Gen And Current Gen

NBA 2K23 MyCAREER Attributes: How to Upgrade Attributes in 2K23 Next Gen and Current Gen
Date: 12/30/2022 11:51:57 AM
In NBA 2K23 MyCAREER, where and how to upgrade your attributes for next gen and current gen? Let's take a quick look at a brief guide with steps to do that.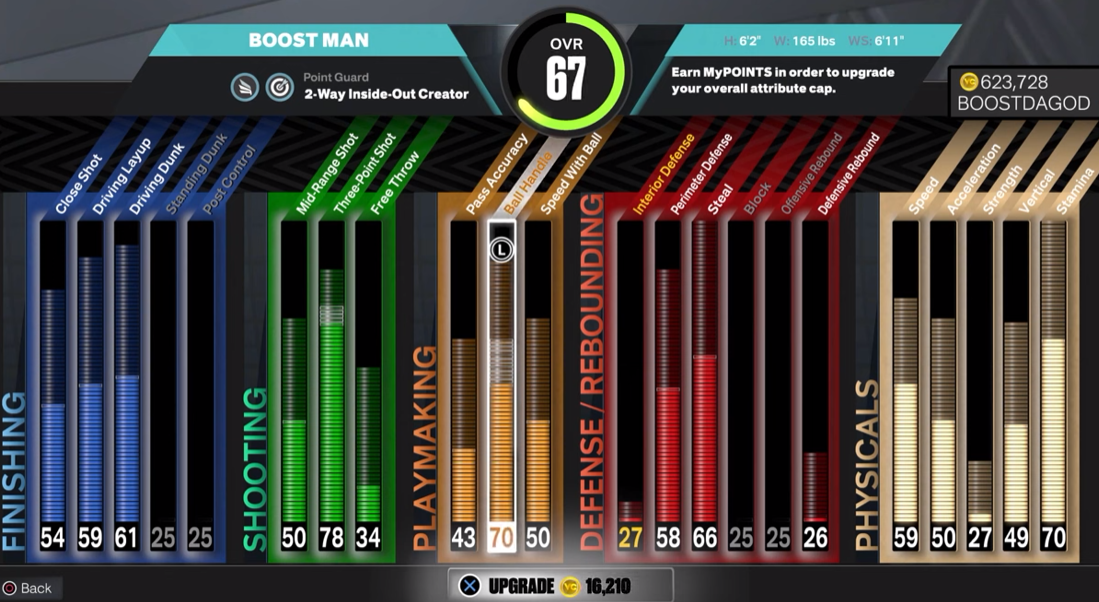 How to Upgrade Attributes in 2K23 Next Gen?
Below are steps introduced by RDK on how to do attribute upgrades in NBA 2K23 MyCAREER next gen.
1. Press the start button, go over to the Progression section.
2. Once you are on Progression, you'll find the Attributes tab on the very top.
3. Click it and go ahead, you will have your attribute screen.
4. You can decide whatever you want to upgrade on the attribute screen.
5. If you don't have enough NBA 2K23 VC, you need to earn it.
6. You can also press A and press Y to purchase some VC, the attribute you selected to upgrade will be shown on your cart with price.
7. Once you get enough VC, you will be able to buy whatever you want.
8. You will have attribute caps, so once you hit 85 overall, if it says 85 max, that is the max overall you can be, to upgrade your attribute caps, you have to play more games to gain enough experience or MyPoints, you can get up to 99 overall. Once you increased the cap successfully, you will be noticed with attribute upgrade available.
How to Upgrade Attributes in 2K23 Current Gen?
The steps for upgrading attributes on current gen will be a little bit different than that on next gen.
1. Press the start button and go to the Progression.
2. When you are on the Progression tab, you should be able to click Progression that is going to be the first bar on the left.
3. Click it, you'll see the attribute screen where you can upgrade whatever you want to.
4. You can see the VC cost at the bottom of the screen, it's going to rack up fast especially when you get those critical attributes for your builds.
5. Similarly, if you do want to buy some VC, go ahead and press A, it is going to say add right there at the bottom left, go ahead and press Y.
VC is very important in attribute upgrades, and MT points are critical for purchasing MyTEAM cards, you can play more games to earn currencies instead of purchasing, but much slower.
NBA 2K23 News Guides

NBA 2K22 News Guides

NBA 2K21 News Guides
CONTACT US
TEL (USA) : +1-315-889-1198
TEL (UK) : +44-020-32905838
MSN: [email protected]
QQ: 1498133786