Home
>>
News
>>
Nba 2K23 Steph Curry Build Next Current Gen How To Make The Best Stephen Curry Build In 2K23

NBA 2K23 Steph Curry Build Next & Current Gen - How to Make the Best Stephen Curry Build in 2K23
Date: 3/22/2023 3:46:00 PM
Steph Curry is the greatest shooter and one of the best guards of all time, let's take a look at the best Stephen Curry build in NBA 2K23 for the next gen and current gen, which is also the best guard build in the game.
NBA 2K23 Steph Curry Build Next & Current Gen - How to Make the Best Stephen Curry Build in 2K23
How to make the best Stephen Curry build on NBA 2K23 next-gen and current-gen? Here is an example from Spida DF, this is particularly a threes guard build, you don't need a ton of defense, especially since all of the offense on this build will make up for every single bit of it.
Body Settings
The first thing you want to do is set the position to point guard, as for the body settings, you can go with the following values exactly. You want to go with a height of six foot two and weight is going to be 185 pounds, and a wingspan is going to be six foot three.
- Height: 6'2"
- Weight: 185 lbs
- Wingspan: 6'3"
Attributes Potential
When it comes to the attributes, first upgrade your close shot all the way up to an 80, you don't need it much higher. Then bring the driving layup to a 90, for a Stephen Curry build, you are not going to be getting many dunks, so the driving dunk not get upgraded. For the shooting, the best part about this build is to max out your three-point shot to a 99, it will bring up your mid-range and free throw, and you can get every shooting badge at Hall of Fame. Moving on to the playmaking, bring the ball handle up all the way to a 92, then take your pass accuracy to a 75 and the speed with ball to a 78, this gives you 20 playmaking badges, you can also get HOF Quick First Step. Next, for the defense and rebounding, bring the perimeter defense all the way up to a 71, you don't need a high steal here, then bring your block to a 56 to be able to get some blocks. And max out the defensive rebound to a 70. Finally, for physicals, bring your speed all the way up to 78 and acceleration to 85, take the stamina to 95, which will be a 99 once you get the Gym Rat badge.
- Finishing: Close Shot 80, Driving Layup 90, Driving Dunk 25, Standing Dunk 25, Post Control 25
- Shooting: Mid-Range Shot 84, Three-Point Shot 99, Free Throw 75
- Playmaking: Pass Accuracy 75, Ball Handle 92, Speed With Ball 78
- Defense/Rebounding: Interior Defense 61, Perimeter Defense 71, Steal 42, Block 56, Offensive Rebound 26, Defensive Rebound 70
- Physicals: Speed 78, Acceleration 85, Strength 40, Vertical 48, Stamina 95
Takeovers
For the takeovers, the first one you can go with the sharp takeover, and for the second one, go with a playmaking takeover, shot creator, or others you like. Finally, you will build a 3-level shot creator.
- Primary: Spot Up Shooter
- Secondary: Shot Creator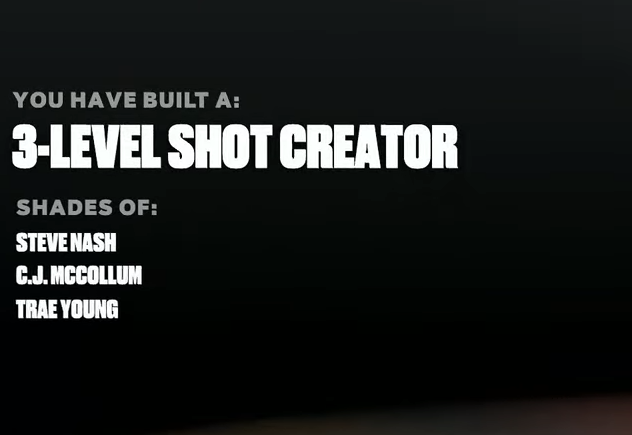 Also, on Buynba2kmt.com, we have various types of NBA 2K23 builds and tutorials, as well as the latest event guides and the cheapest 2K23 MT.
NBA 2K24 News Guides

NBA 2K23 News Guides

NBA 2K22 News Guides

NBA 2K21 News Guides
CONTACT US
TEL (USA) : +1-315-889-1198
TEL (UK) : +44-020-32905838
MSN: [email protected]
QQ: 1498133786