NBA 2K23 All-Around Threat Build - Best Builds on 2K23 Current Gen
Date: 1/31/2023 5:36:02 PM
Today we'll show you two different versions of NBA 2K23 all-around threat builds that can help you dominate on current gen.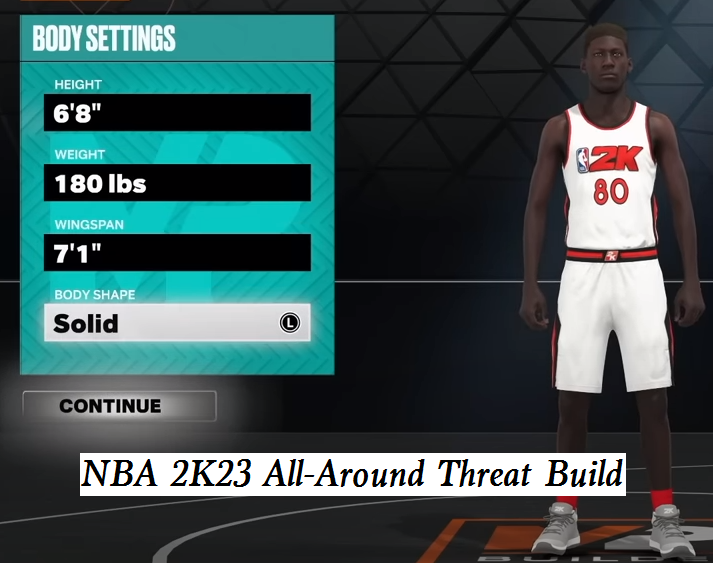 NBA 2K23 All-Around Threat Build - Best Builds on 2K23 Current Gen
Below we have two versions of NBA 2K23 current gen builds (all-around threat build) for 6'8 and 6'3 heights.
NBA 2K23 All-Around Threat Build - Best 6'8" PG Build on Current Gen
For the position, you can make it at point guard, the hand and jersey number do not matter. You want to make the first build at a height of 6'8", lower the weight to the minimum, then keep the wingspan at 7'1". This is a basically all-around build for NBA 2K23 current gen. The first thing you should do is to have your close shot to an 88 rating, and the driving layup also needs to be at 88. Three-point 89, you can get some badges like gold Agent 3, then put the mid-range to 80, and leave the free throw alone. More attribute potentials are as below.
Body Settings
- Height: 6'8"
- Weight: 180 lbs
- Wingspan: 7'1"
Attributes
- Finishing: Close Shot 88, Driving Layup 88, Driving Dunk 85, Standing Dunk 40, Post Control 25
- Shooting: Mid-Range Shot 80, Three-Point Shot 89, Free Throw 68
- Playmaking: Pass Accuracy 86, Ball Handle 89, Speed With Ball 80
- Defense/Rebounding: Interior Defense 49, Perimeter Defense 90, Steal 72, Block 25, Offensive Rebound 25, Defensive Rebound 45
- Physicals: Speed 74, Acceleration 82, Strength 40, Vertical 65, Stamina 90
Takeover
- Primary: Playmaker
- Secondary: Spot Up Shooter
NBA 2K23 All-Around Threat Build - Best 6'3" PG Build Current Gen
The second one is a 6'3 version of an all-around threat for 2K23, put the wingspan all the way to 6'11", what we are going to do is follow along driving dunk is also going to an 86, driving layup and close shot also going to 88. For three point, we're gonna do an 89 and put the mid-range to 80. You're gonna get Agent 3 and all that stuff, you still get Limitless Range silver and you get all the other badges, which is pretty cool. For takeovers, you do slasher and sharpshooter, and all that you get done, you're gonna get an all-around threat.
Body Settings
- Height: 6'3"
- Weight: 170 lbs
- Wingspan: 6'11"
Attributes
- Finishing: Close Shot 88, Driving Layup 88, Driving Dunk 86, Standing Dunk 25, Post Control 25
- Shooting: Mid-Range Shot 80, Three-Point Shot 89, Free Throw 83
- Playmaking: Pass Accuracy 86, Ball Handle 87, Speed With Ball 80
- Defense/Rebounding: Interior Defense 30, Perimeter Defense 90, Steal 55, Block 25, Offensive Rebound 25, Defensive Rebound 45
- Physicals: Speed 79, Acceleration 90, Strength 40, Vertical 70, Stamina 91
Takeover
- Primary: Slasher
- Secondary: Spot Up Shooter
NBA 2K24 News Guides

NBA 2K23 News Guides

NBA 2K22 News Guides

NBA 2K21 News Guides
CONTACT US
TEL (USA) : +1-315-889-1198
TEL (UK) : +44-020-32905838
MSN: [email protected]
QQ: 1498133786