NBA 2K23 Best 3&D Point Build - How to Make Best 3 and D Build on 2K23 Next Gen
Date: 2/17/2023 5:14:28 PM
Throughout this article, let's take a quick look at the NBA 2K23 best 3&d point build.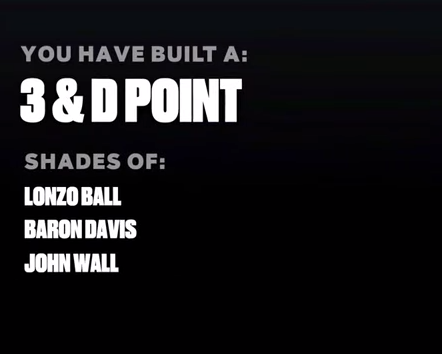 NBA 2K23 Best 3&D Point Build - How to Make Best 3 and D Build on 2K23 Next Gen
The position of the NBA 2K23 3 and D build is going to be the point guard, AYOKG introduced one of the ways to make a 3&d point on 2K23 next-gen.
Body Settings
For the height, we want to go with six foot six so we get that Rim Protector, then not only that our wingspan is gonna be even longer, moving the height all the way down.
- Height: 6'6"
- Weight: 180 lbs
- Wingspan: 7'3"
Attributes
When it comes to the attributes, one of the most important things is the driving dunk, you don't need the speed with ball, and the only thing this unlocks is certain dribble move animations, you do not want to have every single dribble animation in the game, as long as you got the effective one, you can speed boost and dribble out of it. Then for the physicals, max out the acceleration all the way out, and you do not need vertical to get contact dunks anymore, you also want to go with 88 speed and then you want to go with the 89 stamina. A driving dunk of 85 can get you contact dunks and a silver Posterizer badge, which increases the chances of throwing down a dunk on your defender. For the three-point shot, all you need is silver Limitless, 75 pass accuracy is having a gold Bullet Pass and getting the LeBron James pass style on 2K23 next gen. There are two different ways to make a 3&d point guard build, the first way is with an 86 ball handle, and 86 perimeter defense, that way you get silver Clamps. And move the block up to a 75 to get a gold Chase Down for defense.
- Finishing: Close Shot 70, Driving Layup 80, Driving Dunk 85, Standing Dunk 30, Post Control 25
- Shooting: Mid-Range Shot 70, Three-Point Shot 85, Free Throw 79
- Playmaking: Pass Accuracy 75, Ball Handle 86, Speed With Ball 56
- Defense/Rebounding: Interior Defense 72, Perimeter Defense 86, Steal 95, Block 75, Offensive Rebound 25, Defensive Rebound 70
- Physicals: Speed 88, Acceleration 89, Strength 47, Vertical 65, Stamina 89
Takeovers
- Primary: Lockdown Defender
- Secondary: Shot Creator
We have more NBA 2K23 current gen & next gen builds updated here, as well as cheap 2K23 MT for sale.
NBA 2K23 News Guides

NBA 2K22 News Guides

NBA 2K21 News Guides
CONTACT US
TEL (USA) : +1-315-889-1198
TEL (UK) : +44-020-32905838
MSN: [email protected]
QQ: 1498133786