Home
>>
News
>>
Nba 2K23 Best Shooting Center Stretch Big Build Overpowered Pro Am Center Build In 2K23

NBA 2K23 Best Shooting Center (Stretch Big) Build - Overpowered Pro Am Center Build in 2K23
Date: 3/29/2023 4:41:34 PM
In terms of the role you are playing in a team, there are tons of build types you can make in NBA 2K23. If you want to make a center build for the Pro-Am, follow us to get into the setup of the best NBA 2K23 shooting center (stretch big) build for the next-gen.
NBA 2K23 Best Shooting Center (Stretch Big) Build - Overpowered Pro Am Center Build in 2K23 Next Gen
This is an overpowered shooting center or stretch big build by TLM Blitz, which is specifically engineered for Pro-Am 5v5, you can also try it for Rec Randoms because you've got the shooting involved, you can always stretch the floor, you're not forced to vacate you're not forced to take up space in the paint, and you're still going to have the 99 reboundings and you'll still have that shooting capability to space the floor. With this build, the role you are playing is a stretch big or shooting center and a five-out type of offense who can shoot very consistently from the corner and defensively rotate into block shots and get rebounds
Position & Body Settings
- Position: Center
- Height: 7'0"
- Weight: 232 lbs
- Wingspan: 7'10"
Must-Have Attributes
Before we go to all the attribute caps at their full potential, there are some important attributes to have for this shooting center build, each of them will help you unlock a specific badge or animation in the game.
- 85 Close Shot (Gold Fast Twitch)
- 80 Driving Dunk (Quick Drops Off One and Silver Limitless Takeoff)
- 76 3PT Shot (Gold Claymore)
- 76 Pass Accuracy (LeBron Package and Gold Break Starter)
- 99 Block (HOF Anchor)
- 99 Defensive Rebound (HOF Rebound Chaser)
- 80 Vertical (Unlock Dunk Animations and Better Blocking/Rebounding)
Full Attribute Potential
In terms of maximizing the badge points, you'll want to put the standing dunk up to an 80, that's going to give us two badge points and also unlock the pro big man contact dunks and the Shaquille O'Neal animation, which are very good dunk packages. Then bump the three-point shot to a 79, which is going to give us two badge points. Go ahead and make the mid-range shot to 68, this is gonna give us two more badge points. Moving on to put the perimeter defense up to 54, it gives one point and throws steal up to 61, which also gives some points, and it's always good to have more steal gotta pick off some of those passes into the corner, especially when you are baiting acting. Then throw your offensive rebound up to 85, that's going to give you three more points. Finally, put the speed at 71 and acceleration at 60, it's nice to have at least 76 strength for silver Brick Wall. And put the stamina up to 85, this is a good spot. The final badge count is 15, 15, 9, and 29.
- Finishing: Close Shot 85, Driving Layup 60, Driving Dunk 80, Standing Dunk 80, Post Control 50
- Shooting: Mid-Range Shot 68, Three-Point Shot 79, Free Throw 71
- Playmaking: Pass Accuracy 76, Ball Handle 41, Speed With Ball 25
- Defense/Rebounding: Interior Defense 79, Perimeter Defense 54, Steal 61, Block 99, Offensive Rebound 85, Defensive Rebound 99
- Physicals: Speed 71, Acceleration 60, Strength 76, Vertical 80, Stamina 85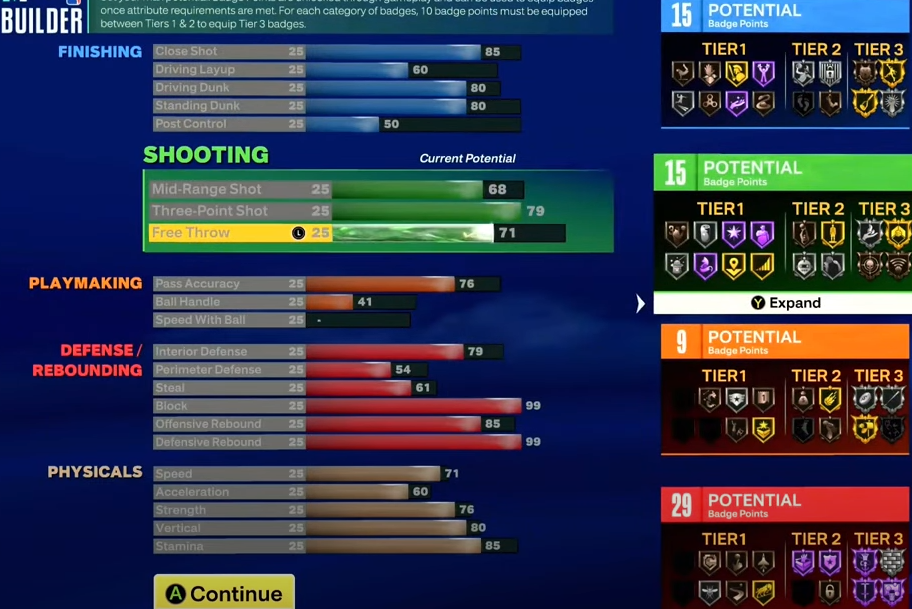 Best Takeovers
If you put Limitless Range and Boxout Wall, you're going to be getting takeover from getting rebounds at a pretty quick rate and that's going to get you up to your primary takeover.
- Primary: Limitless Range
- Secondary: Boxout Wall
Best Badges
1) Finishing
Tier 1: Limitless Takeoff (Silver), Slithery (Bronze)
Tier 2: Aerial Wizard (Silver), Posterizer (Bronze)
2) Shooting
Tier 1: Middy Magician (Silver)
Tier 2: Claymore (Gold), Green Machine (Silver)
3) Playmaking
Tier 1: Clamp Breaker (Bronze), Floor General (Silver), Special Delivery (Gold)
Tier 2: Bail Out (Bronze), Break Starter (Core)
4) Defense/Rebounding
Tier 1: Challenger (Bronze), Interceptor (Bronze), Work Horse (Gold)
Tier 2: Boxout Beast (Gold), Chase Down (Bronze)
Tier 3: Anchor (HOF), Pogo Stick (HOF), Rebound Chaser (Core)
We'll keep going for the latest NBA 2K23 news, as well as the cheapest 2K23 MT and 2K24 MT points.
NBA 2K24 News Guides

NBA 2K23 News Guides

NBA 2K22 News Guides

NBA 2K21 News Guides
CONTACT US
TEL (USA) : +1-315-889-1198
TEL (UK) : +44-020-32905838
MSN: [email protected]
QQ: 1498133786