NBA 2K22 New Rep System - NBA 2K22 Rep Rewards & Season 1 Rewards
Date: 8/25/2021 12:04:40 PM
According to the latest courtside report of 2K, a new Seasons system will be embraced in the upcoming NBA 2K22, players are allowed to earn rewards and prizes through multiple game modes. How will the NBA 2K22 season work? Follow us to check out the new NBA 2K22 rep system, rewards and special rewards for 2K22 Season 1.
Related Read: NBA 2K22 Best Cards
New NBA 2K22 Rep System & Seasons Mode
One of the new modes 2K is bringing to NBA 2K22 is the Seasons, in NBA 2K22, Seasons are not exclusive to MyTEAM anymore, but will be available in MyTEAM, MyCAREER and The W Online. For each season, we'll be able to get new rewards for around six weeks, you can level up to level 40 and get special rewards such as top player cards, VC or 2K22 MT. This is how the new kind of rep system is going to work.
If you level up your MyTEAM Season, that's not the same as your MyCAREER Season, for MyCAREER, you can do it in City, Neighborhood games, Pro-Am, completing quests, and other ways. People may get level 40 or top rep just by playing CPUs or completing quests every single time, it sounds great if they find a way to balance playing users given more than playing against CPUs because we should not have MyCAREER ahead being the top rep.
In addition, when looking at the player card for NBA 2K22, the affiliations on there, this is a sneak peek of what the player card is going to look like. Another new aspect of the Seasons is First Fridays, in which new songs will be added to the soundtrack every Friday throughout the Season.
NBA 2K22 Rep Rewards (NBA 2K22 Season 1 Rewards)
Some new rep rewards are revealed now. Inline Skates can be used as a mold of transportation once you went through level 30, and Go-kart is a fun way to cruise and adventure through unexplored regions once you reached level 40. Players can earn highly coveted rewards such as apparel, banners for your MyPLAYER, a new Grand Prize each season, and more. Season 1 is set to take players for a ride, unleashing Go-Karts in the City and Neighborhood as the Grand Prize. It's a matter of whether you reach the finish line, you have plenty of time to get this level 40 in six weeks, and then it starts over and there's like new rep awards. We are not sure that if there possibly may be the same rep rewards for current-gen and next-gen, it may be exactly the same.
MyCAREER Season 1 Rewards
NBA 2K22 Seasons in MyCareer including 40 levels with new apparel, name banners, transport and more to unlock. You can earn XP through City/Neighborhood games, Rec, Pro-am, events, and completing quests.
Level 28: 2XP Coin "1 Hour"
Level 29: Call to Ball Backpack
Level 30: New Inline Skates
Level 31: New 2K Breakthrough Gear
Level 37: Call to Ball Custom Suit
Level 38: 2XP Coin "2 Hours"
Level 39: Extra Badge Point
Level 40: New Go-kart
MyTEAM Season 1 Rewards
Level 38: 25 tokens
Level 39: Hall of Fame Badge Pack
Level 40: Pink Diamond Carmelo Anthony
The W Online Season 1 Rewards
Bronze: Nail Polish, 1000 VC
Silver: Seasonal Clothing Bundle
Gold: 2K Breakthrough Gear, Extra Badge Point, 3000 VC
Hall of Fame: Cynthia Cooper, Sheryl Swoopes, Takeover Perk Picker
NBA 2K22 2021-22 Seasons Schedule
To become a legend in NBA 2K22, you need to reach level 40 in four different seasons, according to the season schedule, Season 4 doesn't come out until literally January 2022.
NBA 2K22 Season 1 (Call to Ball): September
NBA 2K22 Season 2: October
NBA 2K22 Season 3: December
NBA 2K22 Season 4: January
NBA 2K22 Season 5: February
NBA 2K22 Season 6: April
NBA 2K22 Season 7: May
NBA 2K22 Season 8: July
NBA 2K22 Season 9: August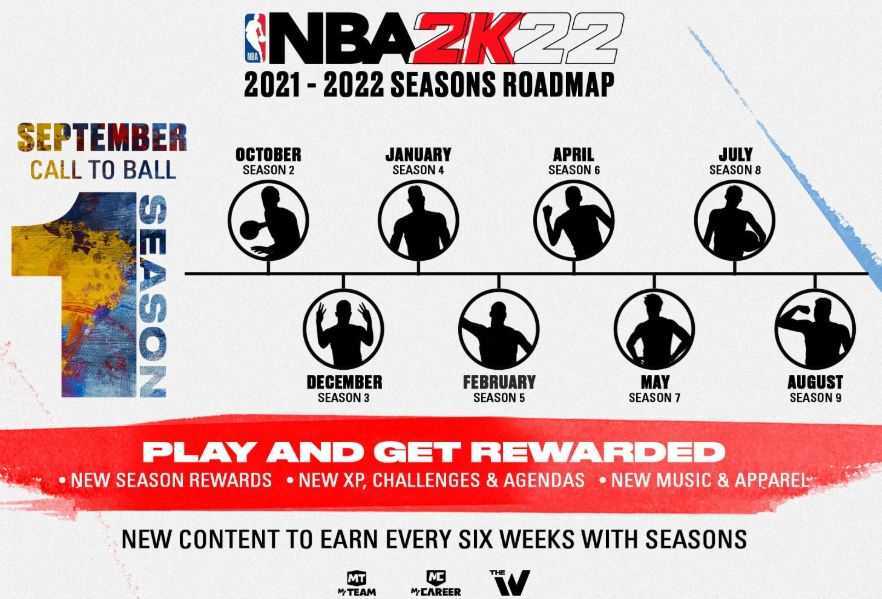 NBA 2K23 News Guides

NBA 2K22 News Guides

NBA 2K21 News Guides
CONTACT US
TEL (USA) : +1-315-889-1198
TEL (UK) : +44-020-32905838
MSN: [email protected]
QQ: 1498133786