Home
>>
News
>>
Nba 2K22 Best Shooting Guard Build How To Make The Best Playmaking Shot Creator In 2K22

NBA 2K22 Best Shooting Guard Build - How To Make The Best PlayMaking Shot Creator In 2K22
Date: 8/31/2021 5:26:49 PM
Have you figured out what build you're going to make in NBA 2K22? although we have not seen the MyPlayer builder, we all know that 2K tends to make a lot of the same things when they first dropped their game. before we get into everything about the build and how you should be attacking the MyPlayer builder on day one of NBA 2K22, we want to show you all 5 confirmed badges in NBA 2K22. these badges are Hyperdrive, Quick Chain, Glue Hands, Post Playmaker, and Triple Threat Juke. in the leaked photo, you will see in badge distribution on the build get 18 finishing badges, 32 shooting badges, 16 playmaking badges, and 12 defense/rebounding badges. that is 78 total badges, which is more than most Current Gen build, it looks like we're going to be getting a lot of badges this year. on Next Gen, those power followers were op and those got a lot of badges. but if you look at shooting, it says 32 shooting badges. normally, 2K maxes it out at 30. so this is interesting, maybe this is some type of like primarily sharp shooting build. but we have no clue of what the MyPlayer build will look like, but this is a sign that it will be different, because of 32 shooting badges, we've never seen that before. NBA 2 Next Gen and Current Gen are going to be way more similar this year than they were in 2K21 because on 2K21, they're two completely different games, they split the audiences. 2K is trying hard this year to make them more similar, and 2K wants to go with that next gen way of thinking with that new Next Gen builder. you can make your build however you want it, now the thing with this is they allowed us to upgrade anything until we ran out of attribute upgrade. in 2K22, let's hope they limit some stuff. on Next Gen 2K21, you could max out a lot of the critical attributes that don't make sense. because if you'll max out your three points, some of your other attributes should be capped a little bit and should be more limited. otherwise, everybody is going to having the same build. everyone's build can do everything, it screws up build diversity.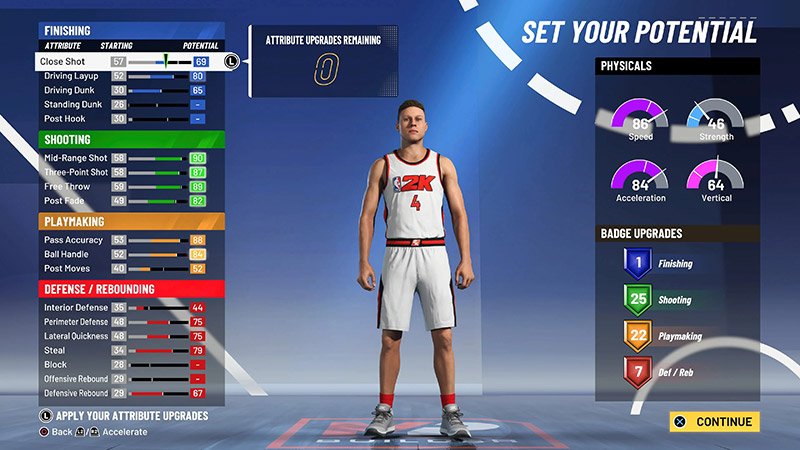 NBA 2K22 Best PlayMaking Shoot Creator Build
At the beginning of a 2K, shooting builds are always OP. another thing is that builds that can fade are ridiculous. at the beginning of 2K, you can fade like crazy, so on day one get a shooting guard to build.
1. Body Settings
Height: 6'7"
Weight: 210 lbs
Wing Span: 6'11"
Body Shape: Compact
2. Attributes
Finishing
Close shot: 25-25
Driving layup: 25-90
Driving dunk: 25-90
Standing dunk: 25-71
Post control: 25-25
Shooting
Mid-range shot: 25-65
Three-point shot: 25-90
Free throw: 25-25
Playmaking
Pass accuracy: 25-25
Ball handle: 25-80
Speed with ball: 25-80
Defense/Rebounding
Interior defense: 25-82
Perimeter defense: 25-90
Steal: 25-90
Block: 25-84
Offensive rebound: 25-66
Defensive rebound: 25-85
Physicals
Speed: 25-85
Acceleration: 25-81
Strength: 25-57
Vertical: 25-69
Stamina: 25-25
Finishing Badge Point: 9
Shooting Badge Point: 6
Playmaking Badge Point: 7
Defense/Rebounding Badge Point: 22
NBA 2K23 News Guides

NBA 2K22 News Guides

NBA 2K21 News Guides
CONTACT US
TEL (USA) : +1-315-889-1198
TEL (UK) : +44-020-32905838
MSN: [email protected]
QQ: 1498133786