NBA 2K22 Best Shooting Badges Current & Next Gen - Top 5 Shooting Badges 2K22
Date: 11/13/2021 11:59:09 AM
The effect of the badge is not only depending on its original function but also on the level you take it on. What is the best shooting badge in NBA 2K22? Does it the same on different consoles? Now we are going to take a look at some of the NBA 2K22 best shootings current & next gen with explanations.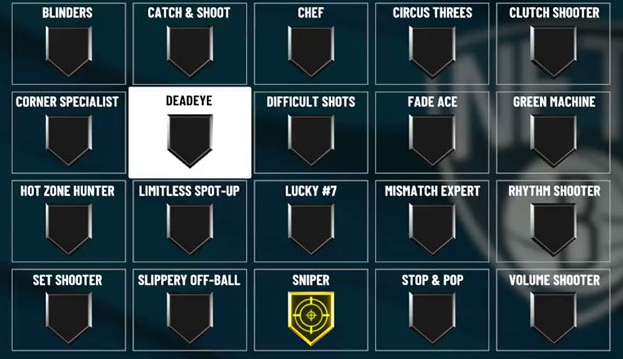 Related Read: NBA 2K22 Current & Next Gen Best Defensive Settings
NBA 2K22 Best Shooting Badges Current & Next Gen - Top 5 Shooting Badges 2K22
Check out the top 5 shooting badges 2K22 selected by YaboiFitz, it's hard to find out everyone is the best for you, but these are the S-tier badges to try out in the game. 2K22 MT for MyTEAM mode is at a good price here, welcome to check out more details.
TOP 5 - Deadeye
The first badge coming in at number five is Deadeye, when it comes to shooting this year, it's really hard and consistent for big men and lockdowns to get contests because there are so many different ways to go about negating shot content. Now Deadeye, it is not the best one, jump shots taken with a defender closing out received less of a penalty, there is a significant difference on how easy people can get tested if you take it completely off, but if you just have this badge on any tier, you will be fine and it's really good, Deadeye is really good for just making sure that you can get a marginal contest and this will make you get more wide open and make you get a lower percentage of lightly contest. The Deadeye badge is still the most important for a 3-point shooter.
TOP 4 - Green Machine
If you're doing anything shooting, whether it's a contest, whether it's a spot-up, whether you're isolating, whether you're using screens, what you want is a green, it's that simple, Green Machine is the best badge when it comes to getting more greens, it gives an additional shot boost when consecutively achieving excellent releases on the jump shot. If you get one green, that next green gets easier. In addition, the reason why this badge might be better way better than it was last year is greens are just that much easier to get off the brick. Green Machine is one of the best shooting badges in the game and when it comes to getting greens and shooting green that is just pretty much all we want to do. Also, running Green Machine in a good way can help you increase the points quickly.
TOP 3 - Mismatch Expert
The next one is a brand new badge to NBA 2K22. After forcing a switch, a player with this badge will have more success when shooting over the taller defender. It is said that they've nerfed this badge already. Mismatch Expert is just a really good badge to be able to shoot over defenders. Mismatch Expert on next-gen is very overpowered because a lot of people are making five nine and under guards, because they want that hall of fame unpluggable, but even on current-gen, it's very good, whether you're a play shot, a slasher people just trying to get those dribbles for like six four and under.
TOP 2 - Sniper
Sniper allows jump shots taken with slight early/late timing to receive a boost, while early or late shots will receive a bigger penalty. When you think you hit a good shot expecting a bucket, but you're landing on white, also known as a full bar. Full bars is pretty much you can get greens with you can get an excellent release, and it's going to switch you get a full bar because it actually will hit the rim and sniper will extend that full bar and allow you to get more greens with that. You can just get more football green using Sniper.
TOP 1 - Blinders
Blinders allow jump shots taken with a defender closing out in their peripheral vision will suffer a lower penalty. Why is this overpowered, the only reason is that you have only one way of getting a consistent contest with this badge, you have to either jump, or you have to literally line yourself up in front of them to be really gonna contest. Blinders are one of the most important badges especially for individuals that love the crab or always coming to the side when you beat them to the left or right.
NBA 2K24 News Guides

NBA 2K23 News Guides

NBA 2K22 News Guides

NBA 2K21 News Guides
CONTACT US
TEL (USA) : +1-315-889-1198
TEL (UK) : +44-020-32905838
MSN: [email protected]
QQ: 1498133786