Home
>>
News
>>
How To Get Attribute Upgrades In Nba 2K22 Fast Way To Get Attribute Upgrades In 2K22 Next Current Gen

How to Get Attribute Upgrades in NBA 2K22 - Fast Way to Get Attribute Upgrades in 2K22 Next & Current Gen
Date: 6/15/2022 11:33:01 AM
If you have no attribute upgrades available in NBA 2K22, how do you earn more for your MyPlayer? So here we'll bring you some of the easiest and fastest ways to get more attribute upgrades in 2K22 next gen and current gen, and you don't need to spend any money.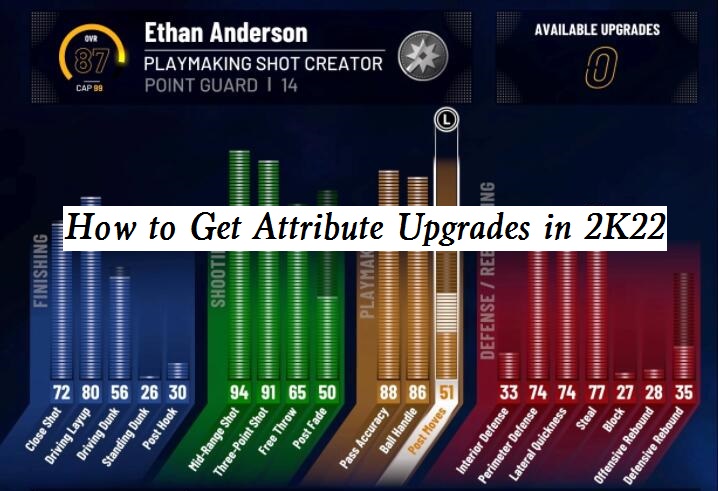 How to Get More Attribute Upgrades in NBA 2K22 - Fast Way to Get Attribute Upgrades in 2K22 Next & Current Gen
To build the most overpowered player in NBA 2K22, you should increase his critical attributes to the highest level, so VC and MyPoints are vital to that. Every time you get an attribute upgrade, you are allowed to use your VC to upgrade the stats of your player. Ace Games introduced a simple way to get more attribute upgrades in 2K22 current and next gen.
Go to the Progression page, it will show a percent on your MyPOINTS, that is how much you have progressed to get your next available upgrades. Once you start getting higher up there, it does get a little bit harder. The key to getting a lot of attribute upgrades is literally the most simple thing ever, all you need to do is go over to your Settings. You can set your Quarter Length to 12 minutes. Then every two to four games, you should get more available upgrades.
Another thing you should take a look at is your endorsement deals. If you are under a max contract, a thousand VC per game that's already guaranteed, endorsements do help that, if you have endorsements and you are under a max contract, you should be getting around two to three thousand VC a game.
If you don't want to play for a long time, you can adjust the rotation minutes, you can take away minutes from your player and give them to other people. If you want to do that, you can do 12-minute quarters and put yourself down to 24 minutes per game, and give the other minutes to someone else. You would still be getting a large amount of VC and still get the same amount of attribute points. You don't have to do 12-minute quarters, you can get it either eight or nine and give yourself 24 minutes a game. If you are gonna do 8 or 9-minute quarters, you should probably give yourself the max amount of minutes as you possibly can, you probably don't want to, but it's probably a good idea to get your attribute points a lot faster than you should
If you don't want to play MyCAREER games, you can go into your Park, another way you can upgrade your build is just playing Park games, there is not really a hack that you can do to get more MyPOINTS or attribute upgrades, it's just you got to play the game, which also probably reward you lots of 2K22 MT points. When you are doing your progression upgrades, make sure you use them on the most required things first.
NBA 2K24 News Guides

NBA 2K23 News Guides

NBA 2K22 News Guides

NBA 2K21 News Guides
CONTACT US
TEL (USA) : +1-315-889-1198
TEL (UK) : +44-020-32905838
MSN: [email protected]
QQ: 1498133786