NBA 2K22 Season 4: Hunter 4 Glory Rewards - What Are The Best Season 4 Rewards In 2K22
Date: 1/17/2022 3:22:23 PM
NBA 2K22 Season 4: Hunt 4 Glory is already here to celebrate Chinese New Year, along with dozens of juiced cards are waiting for you to unlock. With a wide range of NBA 2K22 season 4 rewards, which are the best cards are worth grinding? Therefore, we are going over the best reward cards for NBA 2K22 season 4, including token awards, the road to level 40 rewards, and other reward cards in MyTEAM. So that you won't waste your time and money.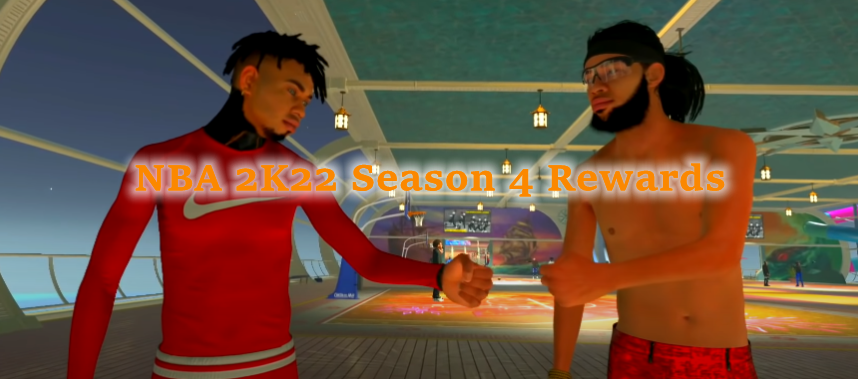 NBA 2K22 Season 4: Hunter 4 Glory Reward Guide - What Are The Best Season 4 Rewards In 2K22
Season 4 is going to save NBA 2K22, due to the fact that Season 3 just reward us with some pajamas. This season we are about to turn up and everybody is going to return to NBA 2K22 not only for the level 40 reward - Year of the Tiger but also for the best level 40 prize Ming Yao. He's already available on Day 1. If you want to get Ming Yao, you are going to be able to play 60 Triple Threat Offline games and play 50 Triple Threat Online games. If you try to get the best NBA 2K22 Season 4 rewards Galaxy Opal Ming Yao in Day 1, you have to complete the S3 Unlimited Showdown to redeem 15,000 XP by winning 63 games. Next, we will see all of the best Season 4 rewards in NBA 2K22 that you should get.
Bailey Howell - 92 - SF/PF - 6'7 - 210 lbs
Bailey Howell is actually a Demar Derozan clone but way better. He has Trey Burke lower base and Kobe Bryant upper release. For the attributes, he has 79 three ball, 80 driving dunk, 89 lateral, and better rebounding. Getting this overpowered NBA 2K22 Season 4 card for 55000 XP. You get that three ball up with a coach plus five, use Stephen Curry as your coach or you use a post-centric coach and Bill Russell, he has an 84-3 ball then a floor general he goes to 89. His ball handles are already above 85. Moreover, he gets hof Interceptor, hustler, and Rebound Chaser.
Ming Yao - 97 - C - 7'6 - 310 lbs
Ming Yao is the level 40 reward as well as the best NBA 2K22 season reward you can look forward to. He is 7'6 tall and has a 7'9 wingspan, with 83 steal, 96 block, 75 driving dunk, 95 standing dunk, 97 post hook, 73 three ball, 68 speed and 68 acceleration. He's got all inside scoring badges and gold Interceptor. Compare this 2K22 Season 4 reward card from last year, he's actually better. Because his steals way up, shootings and mid-range are better. Yao is the mash man, he is so effective and solid. You put pace and space Monty Williams coach on him which boosts his speed. The truth is it's hard to make a 7'6 center good in-game, stats-wise while stop not making them not a 99 overall.
Doug West - 95 - SG/SF - 200 lbs
Pink Diamond Doug West is a good token reward in NBA 2K22 Season 4 who has 6'6 height and a 6'9 wingspan. He has 74 three ball, 92 speed, 92 acceleration, 95 driving dunk, 88 lateral quickness and 87 perimeter defense. He's got a Quick First Step on HOF, Downhill on HOF, Gold Clamps no but without Interceptor. He has jump shot 107 on the lower base which is elite with shifty and has a shifty dribble style.
Baron Davis - 97 - PG/SG - 6'3 - 195 lbs
Baron Davis is the first Galaxy Opal token reward Season 4 NBA 2K22 that has 6'3 for the height and 6'5 for the wingspan. He has 94 speed, 94 acceleration, 92 three ball, good defense, and 95 driving dunk. For badges, he's got HOF Quick First Step, HOF Unpluckable, HOF Bullet Passer, HOF Interceptor, HOF Pick Dodger, HOF Pick Pocket, and Gold Clamps. He is one of the best NBA 2K22 Season 4 MyTEAM rewards, not only has he's got base dribble style but also he's got Damian Lillard on quick. If you put him at the one, you want to put like a shooter beside him or a creator beside him and he's actually really good. The only issue is that you may have spent 750 tokens on a guy without Limitless Spot Up.
Shaquille O'Neal - 89 - C - 7'1 - 323 lbs
Shaquille in the NBA2K22 Season 4 exchange reward is literally the Diamond Shaquille. He has 79 speed, 79 acceleration, 85 standing dank, 85 post hook, 85 interior defense and 86 block. He's got Gold Backdown Pusher, Gold Dropstepper, Gold Grace Under Pressure, Gold Lob City Finisher, Gold Pro Touch, and key finishing badges. Unless he cost really cheap NBA 2K22 MT, don't do the exchanges.
Pascal Siakam - 97 - PF/C - 6'9 - 230 lbs
Pascal Siakam is definitely the NBA2K22 Season 4 best reward you should go for in Clutch Time. He is 6'9 tall and has 7'3 wingspan. He's got 88 speed, 88 acceleration, 89 three ball, 85 standing dunk, 85 speed with ball and 90 all defensive stats. Though base Jump Shot 75 is slow, it's easy to green. He is going to hop corners with shifty dribble styles. With HOF Catch and Shoot, HOF Corner Specialist, HOF Hot Zone Hunter, HOF Set Shooter, HOF Interceptor, HOF Bullet Passer, HOF Downhill, and HOF Quick First Step, he is the best card worth getting in 2K22 Season 4. He is literally Lebron in games.
Reggie Lewis - 97 - SG/SF - 6'7 - 195 lbs
He is 6'7 for height and 6'8 for the wingspan. He has the best upper Kemba Walker on quick, shifty dribble style and S. Pippen behind the back. He might be better than Clay and Joe johnson because of HOF Quick First Step, HOF Clamps, HOF Interceptor, HOF Menace and Gold Range Extender. He's got 94 speed, 95 lateral, 85 block, 92 steal, 95 driving dunk, 90 standing dunk, 94 acceleration, and 91 speed with the ball. This might be the best two-guard in NBA 2K22.
Cazzie Russel - 96 - SF/SG - 6'5 - 218 lbs
This is the absolutely insanely good Season 4 reward card NBA 2K22. He's not as good as Reggie, but he's close. Cazzie Russel is 6'5 at a 6'8 wingspan. He has 93 ball, 93 speed, 93 acceleration, 93 lateral, and 90 steal. Badges he's got HOF Catch and Shoot, HOF Corner Specialist, Gold Interceptor, Gold Menace, Gold Clamps, and HOF Bullet Passer. Most importantly, they're giving him base 3 on quick, the quickest shot in the game, and quick dribble style. If you want HOF Interceptor and better defense, go with Reggie. If you want someone with base 3 and a quicker release, go with Cazzie.
Xavier Mcdaniel - 96 - SF/PF - 7'0 - 215 lbs
Xavier Mcdaniel is a very nice reward with base 40. He has 84 three ball, 90 speed, 90 acceleration, 92 lateral quickness and 95 driving dunk. He has HOF Interceptor and Hustler, he would be been better with a couple of more shooting badges. If you just place him in the corner, he's just going to hawk lanes.
Andre Iguodala - 97 - SF/SG - 6'6 - 215 lbs
Andre Iguodala is going to be a beast on defense. He has 90 three-pointer, 97 steal, 92 block, 95 speed, 95 acceleration, 97 lateral quickness and 92 driving dunk. He's got Andre Iguodala on quick and slasher dribble styles. For collecting 2500 cards you'd want to be getting something good like him.
Maurice Lucas - 97 - PF/C - 6'9 - 230 lbs
Maurice Lucas is one of the best rewards in Season 4 NBA 2K22. He has shifty dribble style, S. Pippen behind the back and base 12. With 89 speed, 89 celebration, 70 three ball, 90 lateral, 85 steal, 87 speed with ball and 92 driving dunk. He's literally Giannis, except he moves better with the ball in his hands. Furthermore, his player builds insane. This is the best exchange ever found in a while, not to mention, you boost that three ball but how good he actually is going to be at shooting. You give him gold Catch and Shoot and Corner Specialists, he's going to be fine.
Danny Granger - 97 - SF/PF - 6'9 - 228 lbs
Danny Granger is a solid NB2K22 Season 4 reward from Unlimited. He is 6'9 and 7'1 wingspan. For the attributes, he's got 91 speed, 91 acceleration, 95 stamina, 89 driving layup, 92 three ball, 85 steal and 82 block. For badges, he has HOF Blinders, HOF Catch and Shoot, HOF Corner Specialist, Gold Range Extender, and Gold Clamps. For his animations, he has base 29 on normal, L. Doncic moving behind the back and he is not going to dribble to be fine.
NBA 2K24 News Guides

NBA 2K23 News Guides

NBA 2K22 News Guides

NBA 2K21 News Guides
CONTACT US
TEL (USA) : +1-315-889-1198
TEL (UK) : +44-020-32905838
MSN: [email protected]
QQ: 1498133786