NBA 2K22 Best Pink Diamond Cards - Most Overpowered Pink Diamonds In NBA 2K22 MyTEAM
Date: 11/1/2021 3:09:22 PM
In NBA 2K22, even though there is little difference in ratings, the card tier and color will make a difference in the gameplay. Are you looking for the best pink diamond cards for your starting lineup in NBA 2K22? Next, we are going to show you NBA 2K22 MyTEAM best pink diamonds that you can use in a competitive lineup.
NBA 2K22 Best Pink Diamond Cards - Best Pink Diamonds 2K22
Halloween event is coming to NBA 2K22 Season 2 MyTEAM. At the same time, both the Triple Threat modes and the token market have been updated for a limited time. With the recent content drops, there are some really elite pink diamond cards in NBA 2K22 that are available to purchase with NBA 2K22 MT. Is said that people were crazy about the pink diamond Kevin Durant, the pink diamond Steph Curry, and the Kevin Garnett. Are these rumored the best 2K22 pink diamonds really worthy of buying? Below is the list of the best pink diamonds NBA 2K22. Let's see whether your favorite player is on the list.
Carmelo Anthony (96) - SF/PF - 6'8'' - 240 lbs - 99 Offensive Overall - 88 Defensive Overall
Carmelo Anthony is one of the best NBA 2K22 pink diamonds. He has 90 speed, 90 acceleration, 93 three-ball, 87 post move and 83 lateral quickness. His release is so good on next gen and okay on current gen. Even though he doesn't have Clamps, he plays good defense. Shooting-wise, he is absolutely exceptional. With dozens of great badges: Mismatch Expert (HOF), Hot Zone Hunter (HOF), Sniper (GOLD), and Limitless Spot Up (Gold).
Chris Webber (95) - PF/C - 6'9' - 245 lbs - 96 Offensive Overall - 93 Defensive Overall
Chris Webber is absolutely no-brainer the best pink diamond card in NBA 2K22 MyTEAM. He is 6'9' and havs a 7'3'' wingspan. He has 82 speed, 82 acceleration, 80 three-ball, 85 standing dunk, 92 strength, and 98 stamina. With insane post badges and shooting badges include Catch and Shoot (Gold), Fade Ace (Gold), Fearless Shooter (Gold), and Dimer (Gold). If you get used to his Jump Shot 22 base which is fine. He's also got decent dribbling for a center, moreover, he rebounds the ball at an elite rate.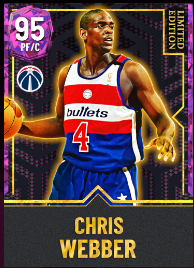 Gary Payton (96) - PG/SG - 6'4' - 180 lbs - 92 Offensive Overall - 99 Defensive Overall
Gary Payton is the most obvious s tier best 2K22 pink diamond card, as well as the best point guard in the game. He's got 97 lateral quickness, 97 steel, 83 three-ball, 93 speed and 93 acceleration. Most importantly is that he has Clamps (HOF), Menace (HOF), Pick Dodge (HOF) and Pick Pocket (HOF). He is a way better version of Dejounte Murray who was released recently.
Stephen Curry (95) - PG/SG - 6'3' - 190 lbs - 98 Offensive Overall - 89 Defensive Overall
Stephen Curry is one of the best NBA 2K22 MyTEAM pink diamond cards. If you want to dribble, just move around. This card is insane that Stephen Curry dribble style is so crazy, his Stephen Curry on quick is insane, and his shoot is just unreal. Furthermore, he has some of the best shooting badges in the game like Catch and Shoot (HOF), Chef (HOF), Circus Threes (HOF), Dead Eye (HOF), Difficult Shots (HOF), Circus Threes (HOF), Green Machine (HOF), Blinders (Gold) and Sniper (Gold).
Glenn Robinson (95) - SF/PF - 6'7' - 225 lbs - 95 Offensive Overall - 87 Defensive Overall
Glenn Robinson is another overpowered point guard that deserves a spot on the list of NBA 2K22 best pink diamond. He has 90 driving dunk, 85 speed, 85 acceleration, 83 three ball, 85 lateral quickness and 84 speed with ball. He also got a nice jump shot. Overall, he can get almost every badge except for Clamps. This pink diamond card is able to play decent defense, shoots the ball very well, and handles the ball pretty well with the help of Quick First Step.
Anthony Davis (95) - PF/C - 6'10' - 253 lbs - 94 Offensive Overall - 95 Defensive Overall
Anthony Davis is the best big man in NBA 2K22 who has 79 speed, 79 acceleration, 82 three ball, decent lateral quickness, and decent block. He also has a great release.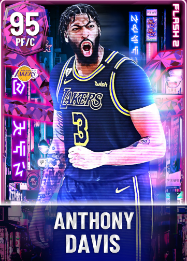 Paul Pierce (95) - SF/PF - 6'7'' - 235 lbs - 97 Offensive Overall - 88 Defensive Overall
Paul Pierce is one of the best small forwards in NBA 2K22. He has an amazing defense, shooting and quick dribble style, so he can cheese around and play. With really good stats, 92 three ball, 80 driving dunk, 93 speed, 93 acceleration, and 91 lateral quickness. He is the perfect 2K22 pink diamond you should get in MyTEAM.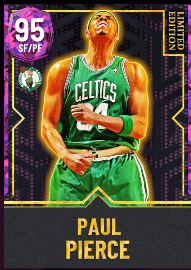 Kevin Durant (95) - SF/PF - 6'9' - 240 lbs - 97 Offensive Overall - 89 Defensive Overall
Kevin Durant belongs to the most overpowered NBA 2K22 pink diamond that has good defensive play. In addition, he has all the Hall of Fame shooting badges, including Sniper (HOF), Green Machine (HOF), Stop and Pop (HOF), Blinders (Gold) and Limitless Spot Up (Gold). The only difference between the Halloween Masked card and Unmasked card is the Blinders. He is also a great Finisher who has a shifty dribble style and the long athlete layup package.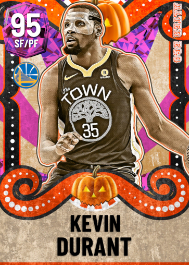 If you are trying to find the NBA 2K22 MyTEAM best pink diamond cards to plug in at a specific position, the above is full of players at all five positions. Meanwhile, some of them have success with very cheap amounts of NBA 2K22 MT. Last but not the least, there are more budget NBA 2K22 pink diamonds you can expect to see this week.
NBA 2K24 News Guides

NBA 2K23 News Guides

NBA 2K22 News Guides

NBA 2K21 News Guides
CONTACT US
TEL (USA) : +1-315-889-1198
TEL (UK) : +44-020-32905838
MSN: [email protected]
QQ: 1498133786