Home
>>
News
>>
Nba 2K23 Galactic Spotlight Sims Tier List Ranking The Best Galactic Conqueror Players In 2K23

NBA 2K23 Galactic Spotlight Sims Tier List - Ranking The Best Galactic Conqueror Players In 2K23
Date: 2/3/2023 12:32:55 PM
Spotlight Sims are back to NBA 2K23. Complete every Spotlight Challenge for free 33 Galactic Conqueror players. Therefore, what is the best Galactic Conqueror Spotlight Sims to get in 2K23 MyTEAM? In this NBA 2K23 Galactic Conqueror Spotlight Sims tier list, we are going to be ranking every single one of the cards from worst to best. We are going to be focusing purely on their Diamonds.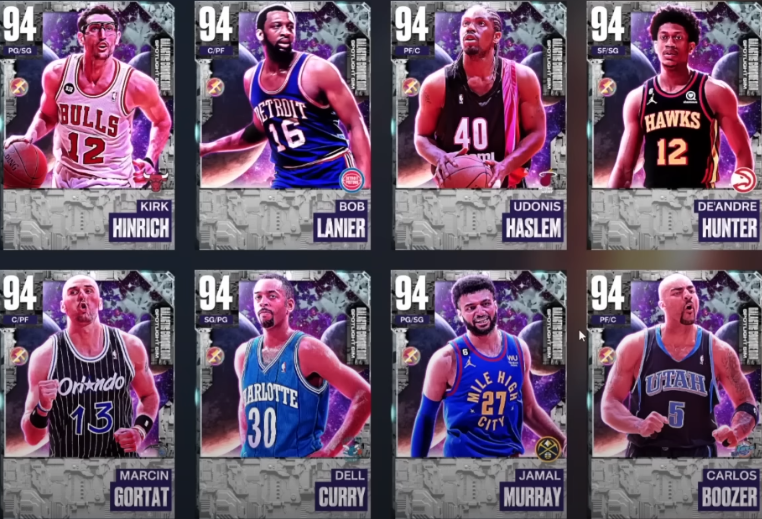 NBA 2K23 Galactic Conqueror Spotlight Sims Ranking - What Are Best & Worst Galactic Conqueror Cards In 2K23
If we ranked the base their Pink Diamonds and that's probably not a fair way of doing the NBA 2K23 Galactic Spotlight Sims tier list. For example, if you believe that the best Pink Diamond, there is an argument to be made, Unseld or Dell Curry are the 2 best in the game. Or it is also an argument to be made from Cedric Ceballos, Dan Majerle, Chris Mullin, Tyreke Evans, or Michael Olowokandi. There are four of the top seven or eight. But there you can't get all of them. So we're going to be ranking the best NBA 2K23 Galactic Spotlight cards base on Diamonds.
No. 33 Mitchell Robinson
He sucks. He's a slow interior that can't shoot. He's got only 18 total badges.
No. 32 Udonis Haslem
Though Udonis Haslem found a good release and a good dribble style. But this guy can't shoot and he's not a big power forward, he's an undersized power forward who can't shoot.
No. 31 Matt Bonner
He can't play defense, can't really shoot because the release is awful, can't dribble, and can't really do anything, to be honest.
No. 30 Jamal Murray
Jamal Murray's a guy that you think he's actually looking pretty good, good defense or possible defense, good offense, good shot, and he comes with range, but the issue is he's Jamal Murray on slow. Now you're not using a point guard at a slow release at the stage in the game, because you're going to really struggle with it.
No. 29 Dennis Johnson
He is a good defender but he does have a low steal rating for some reason, can't shoot. The only reason that Dennis Johnson is not lower on this 2K23 Spotlight Sims tier list is he's got a really good release and good dribbling. Even though he's got a low steal rating, he does come with a challenger, clamps, and pick dodger.
No. 28 Carlos Boozer
Boozer is a really good Pink Diamond by the way, but his Diamond is not good. His Diamond doesn't play defensive, Diamond doesn't shoot.
No. 27 Bob Lanier
Lanier is like everything but a jump shot. He is a perfect card if he could hit a little better ball handle and he had a good jump shot would be the right guy. He's basically just Elvin Hayes.
No. 26 Rudy Gobert
Rudy Gobert is one of the best inside bigs in the game. He's a great defensive player, a great rebounder great shot blocker, but can't really shoot the ball, he is the only player with her release on normal timing. He's up there but he can't shoot at all, he's an inside big.
No. 25 Marcin Gortat
Even though Gortat is a bad release Stephen Adams on slow, you can still hit when you're wide open. His player build is weirdly big, he can play power for it and he's just a nuisance to play against. He's streaking hell.
No. 24 Kenny Smith
Small player build but he's really good. Rubio release on quick, normal leaner on quick, Jordan dribble style, solid dribbling, 92 speed, really good driving dunk, and solid defense. A little bit small player builds, small wingspan, but he can really cook on the offensive.
No. 23 Michael Olowokandi
We got the best interior big of these 2K23 Galactic Conqueror rewards and it's all about Olowokandi. He has HOF brick wall, he's got a big player build, a bigger player build than Giannis. He's at 95 driving dunk, he won't hit a three-pointer, and he's got the solo post, 79 ball handle, he's got good passing accuracy and he's got Jordan dribble style, Kobe escape, David Robinson on quick, and Stephen Curry behind the back. Michael Olowokandi is literally just Giannis without a jump shot. His Pink Diamond is the number one of all the Pink Diamonds, but his Diamond is a little below 50%.
No.22 Antoine Walker
He just does everything mediocre. He's not a great defender but he's a really good shooter and he's got a good release.
No. 21 Dillon Brooks
Dillon Brooks is a really good defender but his release is not great at all, pro dribble style is not great, normally leaner on quick is good. He also got good driving dunk and really good defense.
No.20 De'Andre Hunter
De'Andre Hunter vs Dillon Brooks. Hunter's release is easier to time, and Brooks' release is quicker. Hunter is the better defender, Brooks is better a dunker. Shooting-wise, it's similar, they're very similar players just, he's bigger. Hunter is 6'8 and 7'2 wingspan, doing some monster player build versus 6'6, 6'6 wingspan.
No.19 Trevor Ariza
Trevor Ariza is going ahead of De'Andre Hunter. He has better release, 88 three ball, really good speed, acceleration, defense and dunk. You can get away with this guy as good as his Pink Diamond is it was perfect at everything. You can easily get away with this Trevor Ariza if you don't want to upgrade him.
No. 18 LaMarcus Aldridge
LaMarcus Aldridge is an interesting one because again he's somebody that when you look at this Pink Diamonds, his defense goes by a little bit, but doesn't go that much. He's the half range and he's one of those as good a Diamond as Pink Diamond. Because he doesn't get really much more defense, he gets a little better shooting and a little better inside. But he does have 90 three-ball by his own release on quick which is fine. He can't dribble but a solid stretch big.
No. 17 Dorian Finney-Smith
Dorian Finney-Smith's Pink Diamond's fine, he's the 6'7 power forward and that's where the issue is. You can't use him as a shooting guard. He does everything well, you can play defense, he shoots and he can dribble the ball.
No. 16 Cedric Ceballos
This is an underrated Spotlight Sim in NBA 2K23 MyTEAM. He's another one where you're looking at his Diamond and his Pink Diamond that are the exact same and you're not going to notice the difference. This card will be more than the solid defender, he's got a solid release, Jordan dribble style and he's really slapped on. He's going to get much better at Pink Diamond since his Diamond is really good.
No. 15 Jason Kidd
Kidd is really good and you will love his Trae Young dribble style. He got Kidd on quick, his Pink Diamond is so good. As for his Diamond, he can kind of dunk, 91 three ball, 76 speed, 76 acceleration, and perfect defense. He has HOF anchor, glove, menace, clam breaker, quick first step, dimer, and pretty decent dunk. The main differences between them to be honest, Pink Diamond card was really good and the Diamond card couldn't dunk at all. Jason Kidd is definitely one of the best NBA 2K23 Galactic Conqueror rewards.
No. 14 Kirk Hinrich
This is a really close one between Heinrich and Jason Kidd, so very similar stats, and badge-wise, neither of the range extender. The issue is that Kirk has one of the best releases in the game. His dribble style is not great but he gets quick drops. Even though he does only have a 65 dunk, any quick drops are better, no don't package, normal leaner and he's a good dribble sigs. Again, very similar player builds choose based on your preference.
No. 13 Wes Unseld
Wes Unseld is a beast man, one of the best jump shots in the game can dribble the ball well, is strong the Hall of Fame bully, is really solid on defense, clamp breaker, quick first step, and a little bit on the side, but we'll rebound really well.
No. 12 Vin Baker
Not quite as good stats-wise, very solid release. He has the Paul Millsap release on quick, normal leaner on quick, Michael Jordan dribble style. This is a big man who will dunk the ball, will play defense, big player build and he's good. He's not much better at Pink Diamond by the way, we wouldn't suggest getting a Pink Diamond.
No. 11 Tobias Harri
Tobias Harris is just his size in his release, big player build, really good release, and normal leaner. But the guy can't dribble, play him a small forward or power forward and just shoot the ball. He's he's solid.
No. 10 Kyrie Irving
Right now is where we put Kyrie on this NBA 2K23 Galactic Conqueror Spotlight Sim card tier list. Because he does create at a significantly better rate than anyone we've seen so far. But he plays no defense, he can't play defenses, and the player builds too small. On the other hand, he's got Kyrie on quick, he's at the Kyrie leaner, Kyrie dribble style and quick drops, only 60 driving dunk.
No. 9 Dan Majerle
He has no flaws. He's another one when you get a Pink Diamond, he just becomes like a better version of himself, but he still has all the gold badge you need. You'd better not get his Pink Diamond. He's got great solid speed, a really good release, Jordan dribble style, great leaner, quick drops with a good dunk. He's 6'6, but a big player builds, a shooting guard.
No. 8 Myles Turner
This is the perfect big so far because he does more than a lot of people. The issue of Myles being a 6'6 steal and then that is completely rectified. We strongly recommend you pick Pink Diamond Myles Turner for that division. You get a really good release, by the way, even Myles Turner on normal is a really good release. He has good speed, a solid player build, good power forward, 88 three ball, can pop, can shoot from range, and good defense Myles is one more slapped up on cards.
No. 7 Tyreke Evans
Tyreke Evans is at number 7 on this 2K23 Galactic Spotlight Sims player tier list. He is 6'6, Evan Fournier release, Jason Preston upper, Trae Young dribble style but he can shoot from the deep. He gets gold ranged on this card. We wouldn't suggest getting this Pink Diamond because of the candy man. But you've got unbelievable speed, a good driving dunk, and again that's the thing both of 85 driving dunk and you've got possible defense in a 6'6 long big player build body, half quick first step, clam breaker, and has everything on the Diamond. he's the same Diamond as Pink Diamond.
No. 6 Chris Mullin
This guy is the exact same as Pink Diamond and Diamond, you're not going to notice the difference. But Chris Mullin has got that release, he's got such a nice release, his dribbling is good, you give him an inch of space, he's tough to stop. He only comes with a clamp breaker on silver and that might be something that's upgraded. As a Diamond, this guy is one of the more effective and best Galactic Conqueror spotlight sims in NBA 2K23. You will find he is one of the easiest to control, one of the easiest to score with, and a solid defender because it was player build. Mullin is really good, especially at Diamond.
No. 6 Cedi Osman
This guy's player build is just ridiculous. He has a Jordan dribble style, really good dribbling, Cedi Osman on quick with the normal leaner. The Cedi Osman upper is really nice and you've got a good driving dunk, and really good defense, he doesn't have range, but he has a clamp breaker, has all the defensive badges, and honestly, he gets genuinely everything when it comes to his card.
No. 4 Dell Curry
So many people love this card that there has to be something really good about this card. He's got the perfect dribble sigs, his release is slow off the dribble, but quick drops make him a decent dunker. He's effective and the easiest player in the game to get open with. The issue is that you've got to be able to hit that shot, because it's slow you got to be able to green through the contest. It's a high enough rating that is good. They're the exact same Diamond in Pink Diamond.
No.3 OG Anunoby
At number three the best Diamond on this NBA 2K23 Galactic Spotlight Sims ranking is OG Anunoby. This one was really really good you're looking stats-wise. This one has to go in here number three.
No. 2 Andrew Wiggins
Wiggins is better, 98 driving dunk, 89 three ball, etc. The issue with Wiggins is he doesn't have a limitless range. He can hold range though like range is not expensive, otherwise, you can hold it. He's got all the defensive badges, his release is really good and he gets Andrew Wiggins on quick, he has a normal leaner, he gets freaking Jordan dribble style, pro signature size up, Kobe Escape, his athletic dunks. Wiggins is really good.
No. 1 Kevin Garnett
The gap between Wiggins and OG is not big, but like the gap between everybody and Kevin Garnett is huge. He's the best NBA 2K23 Galactic Conqueror Spotlight card whatever position you want to play him in the game, except center. He has 91 speed, 91 acceleration, 89 three ball, Lamelo release, freaking Kawhi defensive motion style, De'Aaron size up. They give him all the sigs, they gave him all just the best sigs.
NBA 2K24 News Guides

NBA 2K23 News Guides

NBA 2K22 News Guides

NBA 2K21 News Guides
CONTACT US
TEL (USA) : +1-315-889-1198
TEL (UK) : +44-020-32905838
MSN: [email protected]
QQ: 1498133786