NBA 2K23 Bracket Busters Event: Release Date, New Cards, Rewards, Spotlight and More
Date: 3/13/2023 5:37:01 PM
A new Tweet from NBA 2K MyTEAM told users to stay tuned for the upcoming Bracket Busters, when will the event come out and what content will be included? Here we'll keep updating the latest information about the NBA 2K23 Bracket Busters event, including the release date, new cards, and more updates.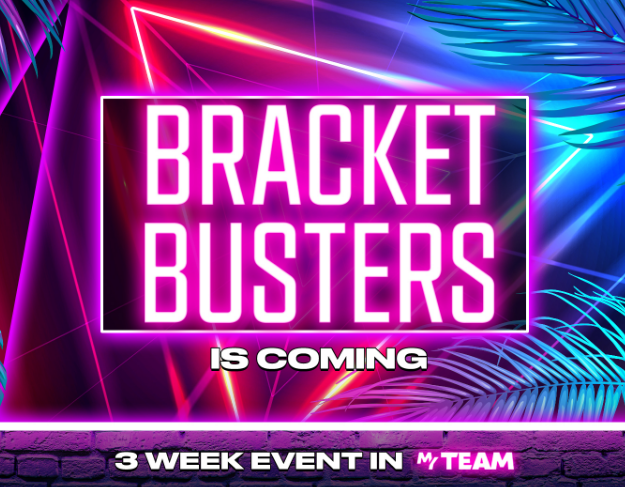 Updated:
NBA 2K23 Bracket Busters Event Start & End Date
The Bracket Busters event begins on March 13 with new agendas added every weekday until March 31, 2023, so we are going to get 15 of these agendas. For the Cauley-Stein vs Frank Kaminsky, all you need to do is get four blocks in the game, and you can get a player option pack of either Diamond Willie Cauley-Stein or Diamond Frank Kaminsky III.
- Agenda 1-5: March 13 to March 17
- Agenda 6-10: March 20 to March 24
- Agenda 11-15: March 27 to March 31
NBA 2K23 Bracket Busters Rewards & Cards
Bracket Busters Takeover

1) First agenda
- New Agendas Incoming: Mystery Player

- Cauley-Stein vs Frank Kaminsky: Bracket Busters Player Option Pack Day 2 (94 OVR Diamond Willie Cauley-Stein or Frank Kaminsky III)
Bracket Busters Daily Login
There is also going to be a daily login that allows you to get a 98 OVR Galaxy Opal card. What you need to do is to log in to 2K23 every weekday during the Bracket Busters event from Day 1 to Day 15 to complete the mural, you can get the collection reward - Galaxy Opal Glen Rice.
Original:
NBA 2K23 Bracket Busters Event Release Date
NBA 2K MyTEAM just revealed a post on their official Twitter account, which hints the Bracket Busters is coming and it will be a 3-week event in MyTEAM. Last year, we have the first update of Bracket Busters on March 18, Friday. Considering that, the NBA 2K23 Bracket Busters event will be released soon, and is expected to start this week, not later than March 17, 2023.
NBA 2K23 Bracket Busters Content (New Cards, Rewards, Spotlight, and More)
2K announced that the Bracket Busters event is coming to NBA 2K23 MyTEAM and will last for three weeks. When talking about the content for the March Madness Bracket Busters event, what could we see this year? The event details have not been revealed now, but it would be coming out with new Bracket Busters player cards as the rewards to obtain during the event.
If you look back to NBA 2K22 MyTEAM update, last March, we had a Bracket Busters event and Bracket Busters Spotlights, which brings a total of 35 new themed cards, so you can get lots of amazing cards for free, including Dark Matter, Galaxy Opal, Pink Diamond and more items from different ways, you can probably earn these cards from Spotlight Challenges, packs, locker codes, and other solutions for free, which saves you tons of 2K23 MT. This year, it is pretty much going to be including free Dark Matters as well.
During the three-week event, they also could give us Bracket Busters Spotlight Sims Challenges like it was last year, as well as those kinds of daily free cards that we can grind for with that ultimate reward locking. There is so much content they can do with the Bracket Busters, for example, they could give us a card from one of those teams in the playing, and there could go down with this even locker codes, whether it's limited or not. Three weeks is a long time, there is gonna have to be just more than daily events.
NBA 2K23 News Guides

NBA 2K22 News Guides

NBA 2K21 News Guides
CONTACT US
TEL (USA) : +1-315-889-1198
TEL (UK) : +44-020-32905838
MSN: [email protected]
QQ: 1498133786