NBA 2K23 Best Trophy Case Players & Rewards - Top 10 Trophy Case Cards in 2K23 MyTEAM
Date: 11/11/2022 11:51:58 AM
Among those Trophy Case rewards, today we'll bring the top 10 NBA 2K23 best Trophy Case players in MyTEAM, and hope you can have a better idea of which Pink Diamond cards to pick.
NBA 2K23 Best Trophy Case Players & Rewards - Top 10 Trophy Case Cards in 2K23 MyTEAM
You can earn Trophy Case rewards in different ways in 2K23 MyTEAM, free overpower cards can improve your team without spending NBA MT. Here is the list of the top 10 NBA 2K23 best trophy case cards ranked by Evan Tanaka, each one of these reward players on the list is elite and valuable, you can run one or more on your team.
Top 10 Jermaine O'Neal - PF/C - 96
The number 10 spot on the list is going to be PD Jermaine O'Neal, he is 6'11" with a 7'3" wingspan, defensively this card might not look the best in terms of stats and badges, but he is an absolute monster on the defensive side, the only thing about this player is that the jump shot is very slow and hard to green. Speed-wise, having 83 speed, 83 acceleration and 85 vertical is good for a center. Overall, the Trophy Case Jermaine O'Neal is a solid card and is gonna be in the top 10 rankings.
Top 9 Steve Francis - PG/SG - 96
Trophy Case Steve Francis is 6'3" with a 6'6" wingspan, he has 95 speed, 95 acceleration, 96 driving dunk, 95 ball handle, and 95 speed with the ball, so this Trophy Case card is going to be really good at going to the rim, the only downside with PD Steve Francis is probably the jump shot as well, which is a little bit too baited for a point guard. Other than that, he is a Super League card and definitely deserves to be in the top 9.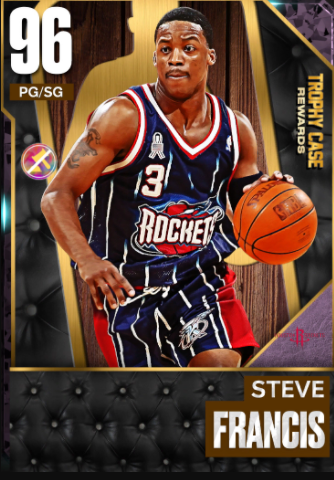 Top 8 Richard Hamilton - SG/SF - 96
At the number 8 spot, we have the Pink Diamond Richard Hamilton, which is one of the most underrated Trophy Case cards in 2K23 MyTEAM. He is a 6'6" shooting guard/small forward with a 6'9" wingspan, and is one of the best shooters in the game, especially when talking about the knockdown shooter, he's got 92 3pt shot, 95 mid-range shot, Hall of Fame Blinders, Catch And Shoot, Clutch Shooter, Corner Specialist, Deadeye, Green Machine and more shooting badges, the only one you need to give him is the Limitless Range. Then he also has a really good jump shot with that Kyle Kuzma upper release, if you are looking for a spot-up shooter, Trophy Case Richard Hamilton is the right choice for you.
Top 7 Gordon Hayward - SF/PF - 96
Moving on to the number 7 best Trophy Case players, Gordon Hayward is at the spot, this is a more well-rounded card in the game, looking at the stats, 90 3pt shot, 90 mid-range, 86 speed, 86 acceleration, 82 block, 84 steal, 87 lateral quickness, 85 perimeter defense, and 81 interior defense, going to the rim should be pretty good as well, a very solid and complete defender, he is not going to be a lockdown. Gordon Hayward also got some really good HOF badges including Blinders, Catch And Shoot, Corner Specialist, Deadeye, Middy Magician, and Space Creator, as well as lots of gold badges. Gordon Hayward is a very good Trophy Case Pink Diamond in NBA 2K23.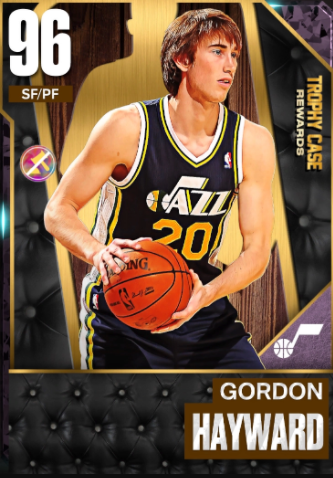 Top 6 Kevin McHale - C/PF - 96
The ranking order from number six to number four can be flipped over, the first one we are going to talk about is Kevin McHale, he is 6'10" with a 7'11" wingspan, which is really nice for a center or power forward position. Kevin McHale is a super elite center in the game, he is tall enough, 76 speed is a little bit too slow to play as a power forward, but is a great defender, he has 95 interior defense, 80 block, also got a good jump shot, then 83 3pt and 85 mid-range for a center are going to be one of the better ones in 2K23.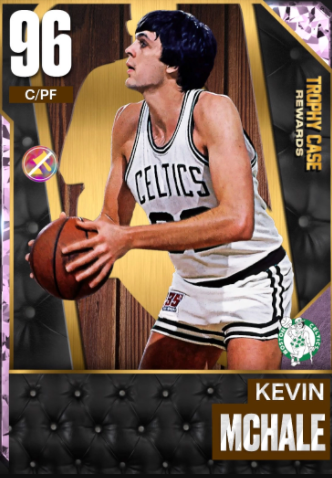 Top 5 Arvydas Sabonis - C - 96
The next one is the Trophy Case Arvydas Sabonis, he is a 7'3" center with a 7'6" wingspan and got a 92 three-point shot and 88 mid-range shot. If you are playing in tournaments or wagers, the Pink Diamond Arvydas Sabonis is going to be a great card at the center position, if you are gonna hop into Unlimited or Clutch Time online, maybe you don't use the best players in those game modes.
Top 4 Zydrunas Ilgauskas - C - 96
For number four, that is going to be PD Zydrunas Ilgauskas, whose nickname is Big Z, he is 7'3" with a 7'6" wingspan, and has an 88 three-point shot, 92 mid-range shot, while also being a decent defender, but he is going to be super low with only a 44 speed and 44 acceleration, which is going to the biggest downside for this card. Other than that, Trophy Case Zydrunas Ilgauskas is an elite center.
Top 3 Russell Westbrook - PG/SG - 96
Coming to the top 3, where we have Russell Westbrook is going to be a point guard or shooting guard, 6'3" in height with a 6'7" wingspan, great at going to the basket, 98 speed, 98 acceleration, also has a 95 driving dunk and a 95 vertical, Trophy Case Russell Westbrook has one of the best dunking animations in NBA 2K23, he is really good at getting to the rim and pretty much dunks on everybody. Then he's got HOF Quick First Step, Dimer, and Clamp Breaker, which is an OP badge this year. His jump shot is pretty good as well.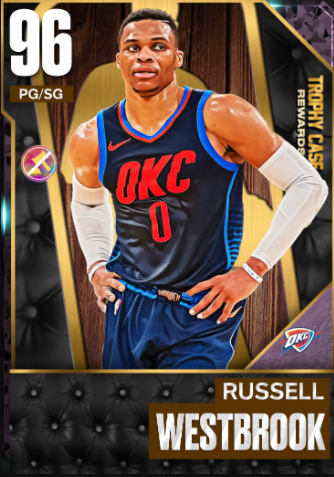 Top 2 Derrick Rose - PG/SG - 96
Derrick Rose is a little ahead of Westbrook, offensively, but they are going to be similar, in terms of dunking, Westbrook might be a little bit better at going to the basket, but when it comes to the jump shot, Derrick Rose does have a little bit better one.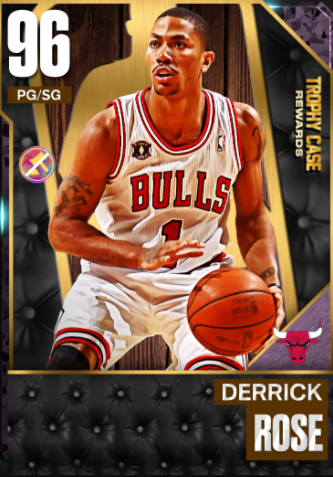 Top 1 James Worthy - PF/SF - 96
Finally, the best Trophy Case reward card in 2K23 MyTEAM is going to be the Pink Diamond James Worthy, he is a power forward or small forward, 6'9" tall with a 7'0" wingspan, this is pretty much the most complete player, 90 speed, 90 acceleration, 90 driving dunk, 83 three-point shot, 90 mid-range, he also got a really good release, there is almost nothing extra you want from him.
NBA 2K23 News Guides

NBA 2K22 News Guides

NBA 2K21 News Guides
CONTACT US
TEL (USA) : +1-315-889-1198
TEL (UK) : +44-020-32905838
MSN: [email protected]
QQ: 1498133786