NBA 2K23 Best MyTEAM Cards - Top 10 Best Player Cards Ranked in 2K23
Date: 2/9/2023 5:06:50 PM
Whether you want to look for the best small forward, shooting guard, point guard, or center, here is a list ranking the top 10 best NBA 2K23 MyTEAM cards and the reasons for that.
NBA 2K23 Best MyTEAM Cards - Top 10 Best Player Cards Ranked in 2K23
This list of the top 10 NBA 2K23 MyTEAM best cards by Evan Tanaka mainly includes some Galaxy Opal and Pink Diamond cards revealed recently, you can earn for free or need to buy with plenty of 2K23 MT points.
Top 10 - Scottie Pippen - SF/SG - 97 OVR
The number 10 spot is going to be the 97 OVR Galaxy Opal Scottie Pippen from NBA 2K23 Season 4 Stellar series, he is a 6'8" small forward and shooting guard with a 7'0" wingspan. He is versatile and able to play as an SF due to his defense, his height, and his wingspan. You can have a lot of success as a lockdown defender at the small forward position and also put him in the shooting guard position, he is going to have lots of advantages over other SGs. Looking at his defensive stats, he has 98 steal, 98 lateral quickness, 98 perimeter defense, and almost well-rounded defense. This version of the card has quick release timing and Michael Jordan dribble style, he is definitely worth being one of the best cards in 2K23 MyTEAM.
Top 9 - Terry Dischinger - SF/SG - 97 OVR
Terry Dischinger plays the same positions as Scottie Pippen, this is also a Galaxy Opal card from Season 3 Flash Forward series. Terry Dischinger is probably slightly better than Pippen as he got more of the complete all-around stats, but Pippen is better in defending and has the better jump shot. Offensively, Dischinger does have a little bit better of a release, and his movement is gonna be a lot better with having the Chris Paul dribble style, it's one of the best to go in the game. He also go the De'Aaron Fox size up, which is super nice for creating space and really good at getting to the room with the default size up, he also got John Wall Escape packages. It's very close between Terry Dischinger and Scottie Pippen, so Dischinger is ranked at number 9 on the list.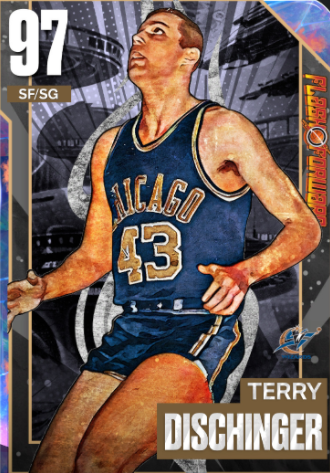 Top 8 - Dirk Nowitzki - PF/C - 97 OVR
At the number 8, we have the Galaxy Opal Dirk Nowitzki from Season 4 Cosmic, he has seven foot one with a seven-foot-three wingspan. When it comes to his stats, Dirk has a really high three-point shot of 98 and 98 rated mid-range shot, the also got some amazing Hall of Fame shooting badges such as Agent 3, Amped, Blinders, Catch And Shoot, Corner Specialist, Limitless Range, Deadeye, and more. This card can definitely stretch the floor at a very high level. Animation-wise, he does have a solid jump shot, the only drawback of this card is the defense. But Dirk is still one of the best power forwards in the game.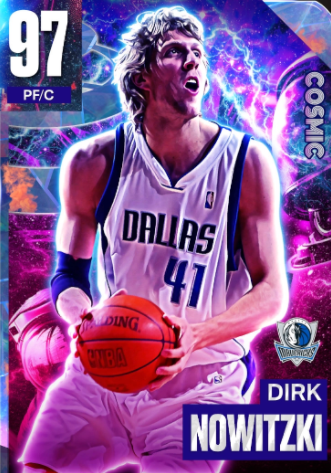 Top 7 - Chet Holmgren - C/PF - 97 OVR
Moving on to number 7, we have another power forward and that is going to be Galaxy Opal Chet Holmgren from Season 4 Stellar, he is seven foot with a seven foot six wingspan. Firstly, stats and badges wise, both Chet and Dirk are going to be super good stretch bigs, Chet has a 90 three-ball and 90 mid-range, HOF Amped, Catch And Shoot, Claymore, Corner Specialist, and Limitless Range, Dirk does have more HOF shooting badges and a little bit high of 3PT shot, but on the defensive end, Chet is much better in either stats and badges, he has 92 interior defense, 97 block and lots of amazing HOF defensive badges. He is a tiny bit faster as well and has a little bit better finishing around the rim. The MJ dribble style makes him able to create a shot easier.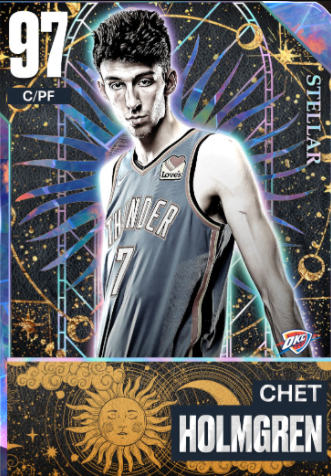 Top 6 - James Harden - SG/PG - 97 OVR
The number six card is going to be the Galaxy Opal James Harden from Season 4 Cosmic. He is super elite and probably the best point guard in the game, 6'5" in height and 6'10" wingspan, he is also the best or second-best offensive card in 2K23 MyTEAM. Looking at the stats, 96 three-point shot, 93 mid-range, some amazing HOF shooting, and playmaking badges, he is nearly unstoppable on the offensive. When it comes to the animations, his jump shot and dribble sigs pair so well, they give him MJ dribble styles so he can boost a little bit, and is able to get to the rim a lot easier. The size up and escape are very nice to create space as well. You just get so wide open with this card and he knocks down every single three. Defensively, he is not that bad as well.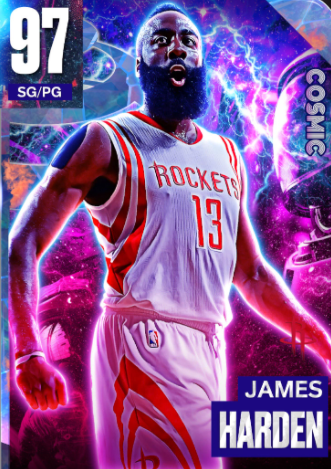 Top 5 - Vince Carter - SF/SG - 97 OVR
The fifth card is going to Galaxy Opal Vince Carter from Season 4 Cosmic, Vince Carter is the best shooting guard in 2K23, he is 6'6" with a 6'9" wingspan, in terms of the stats and badges, this card is pretty much perfect. He got 96 3pt shot, 95 mid-range, 97 speed, and 97 acceleration, he is really fast, with 98 driving dunk, and 98 vertical, Vince Carter is going to be dunking on everybody. He also has Hall of Fame Limitless Takeoff, Posterizer, and some other HOF finishing badges. This card is unstoppable going to the rim. On the defensive end, he also got some very good defensive stats and badges. For jump shot, he got Kyle Kuzma base, one of the best badges in MyTEAM, as well as good dribble style and size-up escape packages.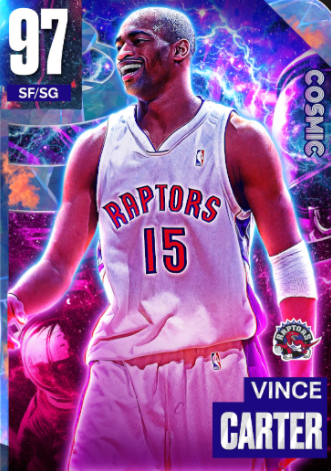 Top 4 - Kevin Garnett - PF/C - 98 OVR
Coming at number four, it is going to be Galaxy Opal Kevin Garnett from Galactic Conqueror rewards, Kevin Garnett is easily the best power forward defender in the game with these animations, he has 97 block, 95 interior defense, and 90 perimeter defense, he basically blocks every single shot and gets some great contestant game. In 2K23, he got LaMelo Ball base, this card is very easy to green and it's very quick as well. This card also got some elite animations, such as the De'Aaron Fox size up, MJ dribble style and Kobe Bryant escape package. This player almost has no flaws, he can create his own shot, he can knock down the three ball, and he is also good at defense and finishing around the rim.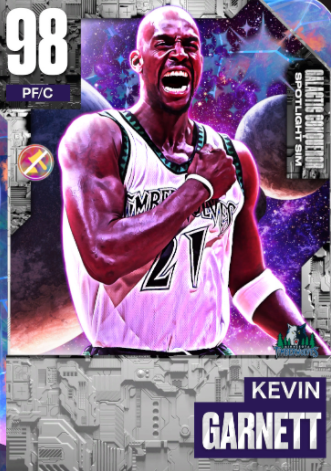 Top 3 - Ben Simmons - PG/PF - 98 OVR
At the top threes, the third spot is going to be Galaxy Opal Ben Simmons from Season 4 Stellar, he is a 6'11" point guard with a 7'0" wingspan. Looking at the stats and badges, he only has a 65-rated 3pt shot, but you can knock down with his jump shot, especially being on quick timing, he also got some decent dribble sigs. This player is pretty much unstoppable in the offensive and is six foot eleven at a point guard position.
Top 2 - Tim Thomas - PF/SF - 96 OVR
The number two card on this list is going to be Pink Diamond Tim Thomas from Pioneers reward, this card was revealed in November 2022, his jump shot is really well, he does have Steve Francis just separates him from the rest of all the good cards in the game because it is easily the best size up, he also got the LaMelo Ball base. It takes a lot of skill to use Tim Thomas and use him very effectively.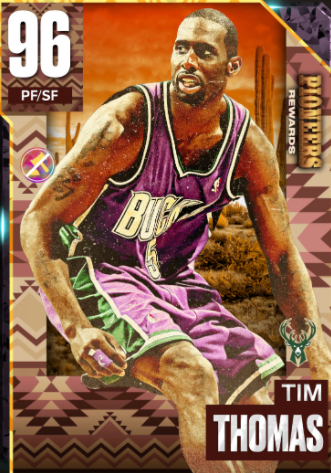 Top 1 - Ming Yao - C - 97 OVR
The last one and also the top one is gonna be the Galaxy Opal Ming Yao from Season 4 Eclipse, the best player card in MyTEAM. He is 7'6" with a 7'9" wingspan, and 80 speed, this card is very strong on offense, and there are lots of amazing Hall of Fame finishing badges, such as Bully, Backdown Punisher, Rise Up, etc., and he's got his jump shot on quick timing and super good release.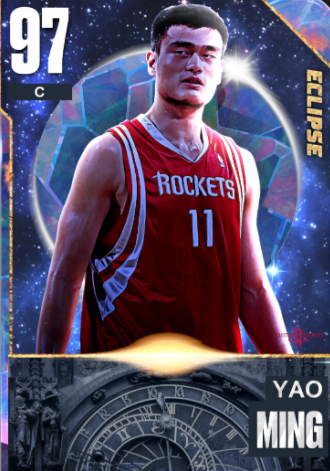 NBA 2K24 News Guides

NBA 2K23 News Guides

NBA 2K22 News Guides

NBA 2K21 News Guides
CONTACT US
TEL (USA) : +1-315-889-1198
TEL (UK) : +44-020-32905838
MSN: [email protected]
QQ: 1498133786